All Posts
How to Assemble the Ultimate Summer Charcuterie Board
June 26, 2023
5 min. read
Next week, the U.S.A. will celebrate Independence Day on July 4th (and Canada will celebrate Canada Day on July 1st). Have you decided what your plans will be yet? If you are hosting a cookout party, consider trying a fun dining option such as a Summer Charcuterie Board!
By definition, a charcuterie board is a platter of cured meats, often served with a variety of cheeses, fruits and vegetables, nuts, crackers or toast, and various spreads. We sometimes use this term rather loosely to apply to any small-scale grazing board or appetizer platter. In fact, we have designed seasonal board arrangements for Spring, Fall, and Winter…but not yet for Summer!
That's where this blog post comes in.
When we think of summer, the first thing that comes to mind is the image of some nice juicy burgers and hot dogs being seared on the grill, perhaps to be enjoyed later with some fresh watermelon or corn on the cob on the side. This is the essence of summer—in the same way that apples with cinnamon spice are reminiscent of fall. Therefore, we simply had to incorporate these elements into our summer recipe platter.
There are a few different routes you can take when building your Summer Charcuterie Board. Browse through the five theme ideas below and choose your favorite to prepare for the upcoming holiday weekend!
Theme #1: DIY Burger Board
The first option is to create a do-it-yourself burger station by arranging all the necessary elements and toppings on a large tray or platter. Your guests can then customize their own burgers to their exact liking or get creative with unique recipe ideas depending on what elements you decide to include.
What to Include:
Martin's Hamburger Buns (e.g., Sandwich, Slider, Big Marty's, etc.)
Burger Patties (e.g., Beef, Turkey, and/or Veggie)
Sliced Cheese (e.g., American, Cheddar, Mozzarella, Pepper Jack, etc.)
Bacon (optional)
Lettuce
Tomato Slices
Onion Slices
Pickles
Relish
Ketchup
Mustard
Mayonnaise
Additional Toppings & Condiments (optional)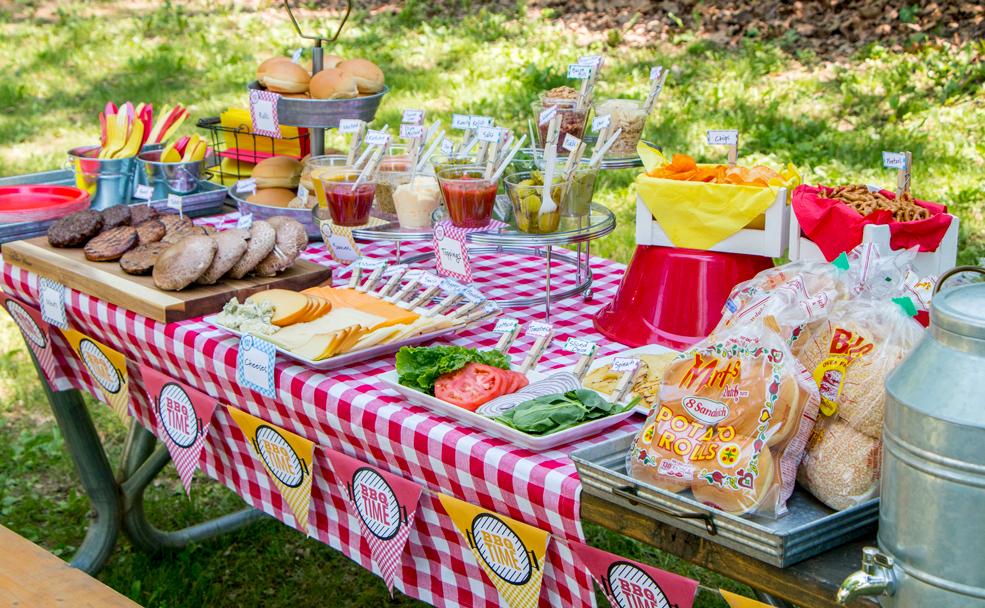 Blog: Build-Your-Own Burger Bar
For a large-scale version of this idea, try a DIY Burger Bar—a full table spread with all the toppings and ingredients you need for your very own burger-themed extravaganza! Check out this blog post for the full details.
Featured Recipes:
Use your Burger Charcuterie Board to craft delicious recipes such as:
Theme #2: Hot Dog Toppings Tray
Similar to option #1, you can create a mix-and-match toppings platter, this time with hot dogs. Arrange your favorite hot dogs or sausages onto a serving dish and surround them with various condiments, toppings, and other such garnishes.
What to Include:
Hot Dogs and/or Sausages
Martin's Hot Dog Buns (Long and/or Hoagie Rolls)
Shredded Cheese
Cheese Sauce (optional)
Prepared Chili (optional)
Chopped Bacon (optional)
Sauerkraut (optional)
Diced Onions
Chopped Tomatoes
Sliced Jalapeño (optional)
Relish
Mustard
Ketchup
Mayonnaise
Additional Toppings and Condiments (optional)
Featured Recipes:
Use your Hot Dog Toppings Board to create fun recipes like:
Theme #3: Seasonal Produce Platter
Another great aspect of summer is all its fresh produce. From garden-ripened vegetables to just-picked berries and stone fruit, summer is prime time for many seasonal fruits and veggies. Take advantage of the opportunity to arrange a deluxe fruit and veggie tray for your guests at your next cookout or family gathering.
What to Include:
Melons (e.g., Watermelon, Cantaloupe, Honeydew, etc.)
Corn on the Cob
Cucumber
Tomatoes
Strawberries
Blueberries
Cherries
Peaches
Pineapple
Mango
Featured Recipes:
Use your Summer Produce Board to make yummy recipes such as:
Theme #4: Patriotic Grazing Board
Another alternative is to go the patriotic route, by integrating red, white, and blue elements or historical American foods into your meal platter. Try some of our fun ideas below or come up with your own! (And don't forget the themed décor!)
What to Include:
Star-Shaped Martin's Toast Crackers
Sliced Martin's Bread (Butter, Potato, or Whole Wheat)
Red Fruits (e.g., Strawberries, Cherries, etc.)
Blue Fruits (e.g., Blueberries)
White Ingredients (e.g., cheese)
Prepared Appetizers – See recipes list below
Featured Recipes:
Use your Patriotic Recipes Board to build festive recipes like:
Theme #5: Combination
Combine the above themes to create a combination meal platter complete with burgers, hot dogs, and their respective toppings, plus summer fruits and veggies and decorative patriotic elements. Our combination board uses all of the elements found in the above sections, each arranged on separate matching metal trays. This helps to keep the hot food hot and the cold food cold, and also provides a "flow" to the table arrangement.
What to Include:
Featured Recipes:
Use your Summer Charcuterie Board to design interesting recipe combinations like:
Watch the below video to learn how to prepare this Summer Charcuterie Board!
Want to make your own Summer Charcuterie Board? Use this map as a guide:
Pin this blog for future reference!
Our latest content, delivered straight to your inbox.
Be the first to hear about our newest recipes, tips, and company updates!