All Posts
Cookout Party Series: Build-Your-Own Burger Bar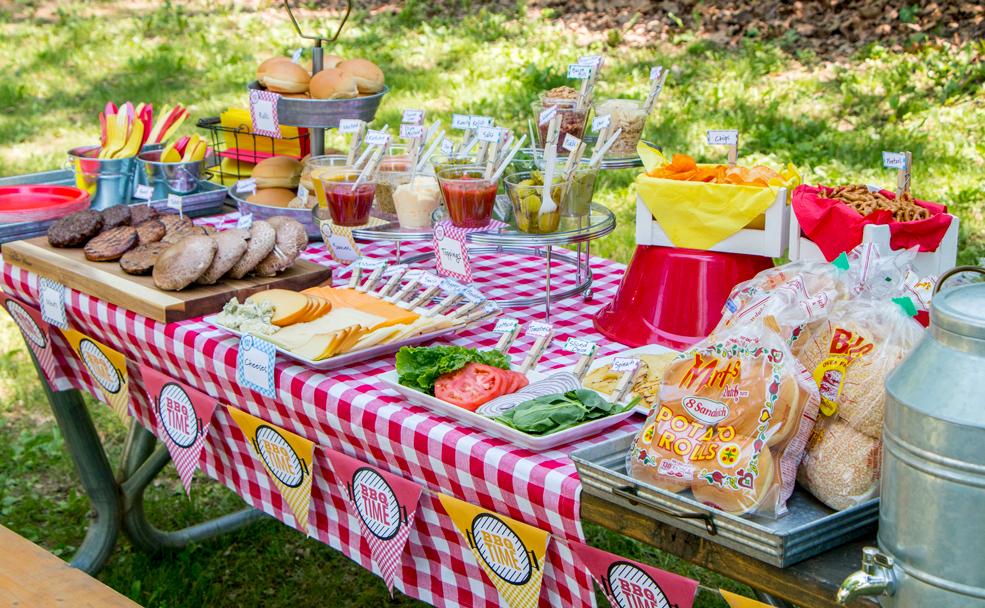 The grilling season has just begun! To expand on the cookout party tips from our previous blog post, here's another fun idea: Build a DIY Burger Bar by arranging a variety of different burger choices along with cheeses, sauces, veggies and other toppings, and an assortment of Martin's Rolls. Then each guest or family member can have fun experimenting with different mix-and-match recipes—you could even have a contest to see who comes up with the best-tasting or most unique combination!
And don't forget to check out our How to Host the Ultimate Cookout Party resource page for more grilling tips and recipe ideas! Plus – you can download the convenient food labels, table tents, and bunting flag templates shown here.
Creative Condiments: Build-Your-Own Burger Bar
Here are some ingredient ideas to get you started:
Burgers
Beef Burgers
Turkey Burgers
Veggie Burgers
Portobello Mushroom Caps
Cheeses
American
Cheddar
Pepper Jack
Muenster
Monterey Jack
Provolone
Blue Cheese, crumbled
Swiss
Gouda
Mozzarella
Fruits/Veggies
Lettuce
Tomatoes, sliced
Onion, sliced
Spinach
Grilled Pineapple Slices
Avocado, sliced
Mango
Cooked Mushrooms
Grilled Peppers & Onions, sliced
Toppings
Relish
Jalapenos, sliced
Pickles
Bacon, crumbled
Fried Onion Straws
Basil, Herbs
Fried Sides: onion rings, fried pickles, French fries, etc.
Sides
Pretzels
Potato Chips
Tortilla chips
Sauces/Spreads
Ketchup
Mustard (yellow, Dijon, honey)
Mayonnaise
BBQ Sauce
Buffalo Hot Sauce
Salsa
Guacamole
Marinara Sauce
Dressing (ranch, thousand island, etc.)
Martin's Rolls
Big Marty's Rolls
Sandwich Potato Rolls
12 Sliced Potato Rolls
Here are some burger recipe ideas!
Turkey Burger with Pepper Jack Cheese, Relish, and Tomato
Burger with Provolone, Thousand Island, and Grilled Pineapple
For more delicious burger ideas, visit https://potatorolls.com/recipes
Our latest content, delivered straight to your inbox.
Be the first to hear about our newest recipes, tips, and company updates!