All Posts
Introducing: Our NEW Sweet Rolls + 75 Ways to Use Them
November 7, 2022
7 min. read
Hello, Martin's fans! We have some exciting news for you. In case you haven't heard: we recently remixed our Dinner and Party Potato Rolls recipe to include a sweeter flavor profile with the same soft, pillowy texture you know and love.
Our Dinner and Party Potato Rolls have a long history. Martin's Dinner Potato Rolls were our earliest product, ever since first being distributed at farmer's markets in 1955 and hitting grocery store shelves in 1965. Martin's Party Potato Rolls were originally sold as "Half Size" Dinner Rolls, and were found to be the perfect size for appetizers and party sandwiches.
Now, Martin's is thrilled to offer customers a sweeter version of these two long-time favorites. Sweet rolls are becoming increasingly popular across the country, and our new products have everything that is already raved about in Martin's Potato Rolls—fluffy texture, high-quality ingredients, and great taste—now just a little sweeter! As with all of our products, Martin's uses only the best ingredients, such as high protein wheat flour, potatoes, nonfat milk, real butter, and pure cane sugar, to make our new Sweet Dinner and Sweet Party Potato Rolls.
As of October 17, you can find Martin's NEW Sweet Dinner and Sweet Party Potato Rolls in a grocery store near you! Visit https://potatorolls.com/where-to-buy to find your nearest location.
We are so excited to be able to offer our fans and customers these new and improved products, and just in time for the holiday season! We hope you'll enjoy the versatility of our new Sweet Rolls and try them as a side, sandwich, snack, appetizer, or dessert—however you please!
P.S.—Learn how you can unlock a free sample of one of these new products at the bottom of this blog.
Find your perfect "Sweet Mini Moment" with this list of 75 Unique Ways to Use Martin's NEW Sweet Dinner and Sweet Party Potato Rolls!
Breakfast & Brunch Recipes
Breakfast Sandwiches
Split apart Martin's Sweet Dinner or Sweet Party Potato Rolls and enjoy, either plain or toasted, as an early morning sandwich stuffed with eggs, bacon, sausage, or even sweet-and-savory chicken nuggets!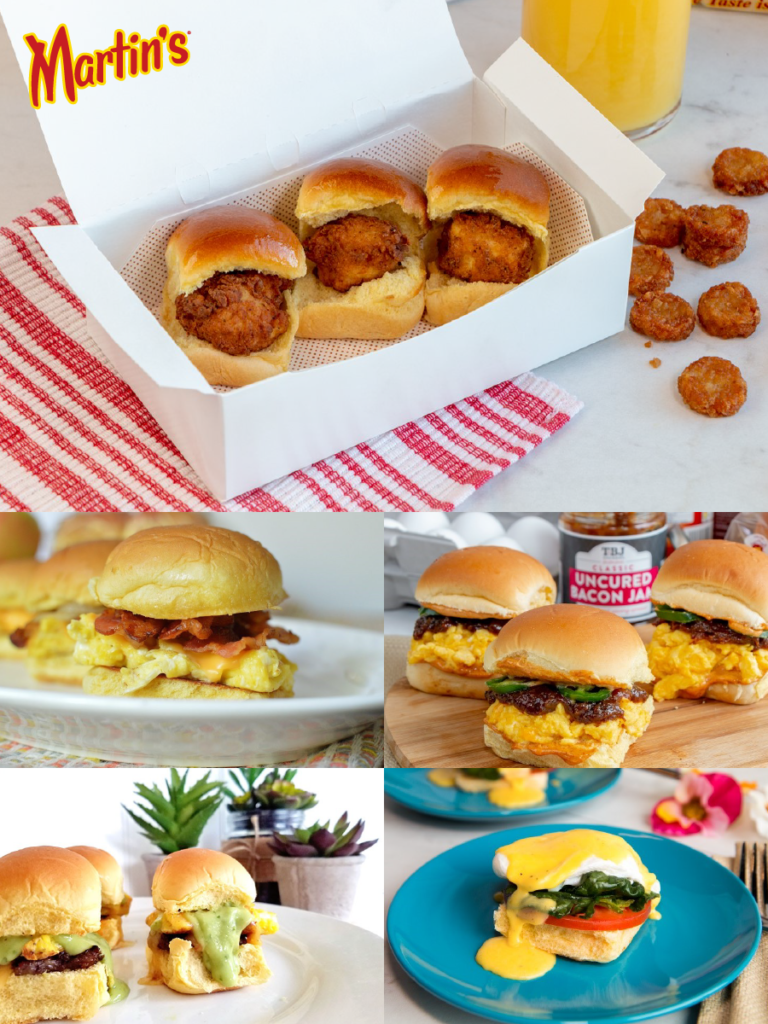 Brunch Bites
Use these products in creative new ways such as sweetened French toast cubes, hollowed-out bread bowls, flatbread sheets, mini toast cups, or as an accompaniment to a seasonal brunch board!
Lunch Recipes
Salads
Martin's Sweet Rolls make delicious croutons, toast cubes, and miniature bowls for all kinds of salads, from panzanella to Cobb to mixed greens tossed in a light vinaigrette.
Sliders
One of our favorite uses for our Sweet Dinner and Sweet Party Potato Rolls is as a slider bun for mini sandwiches. Slice the roll (or entire sheet of rolls) in half to use as a delicious vehicle for fried chicken, ham and cheese, barbecue, and much more!
Snack Recipes
Appetizers
These rolls (especially Party) make amazing appetizers because of their small size. Try them with mini meatballs, cocktail wieners, tea sandwiches, or open-faced sandwiches!
Crostini
Transform these rolls into crostini by slicing them in half, rolling flat, and lightly toasting. Then, top them with marinated fruits, cheeses, Italian meats, or any number of other toppings!
Flatbreads
You can also slice the entire sheet of rolls in half at once, and use it as a base for flatbread pizzas covered with melty cheese, various sauces, meats, veggies, and other fun flavors.
Dinner Recipes
Mini Burgers
Another popular use for these rolls is for mini burgers (a.k.a. "sliders," in the traditional sense). Their soft texture and sweet, buttery flavor pairs well with everything from fancy wagyu beef sliders to savory Thanksgiving turkey burgers.
Soups/Stews
For a 2-in-1 meal, or a classic combo, partner Martin's Sweet Dinner or Sweet Party Potato Rolls with a serving of hearty soup or stew. Try using them as mini bread bowls, or simply serve as a standard side.
Holiday Specialties
Both dinner roll products are an iconic offering at holiday dinners and family get-togethers. Look for creative ways to incorporate them into all your seasonal themes and parties—whether it be a formal Easter dinner or your annual 4th of July barbecue.
Side Dish Recipes
Served Plain (Dinner Plate Sides)
Don't underestimate the power of a plain roll, right out of the bag or warmed in the oven. These rolls have the magical ability to enhance any dinner plate and complement a wide variety of flavors and ingredients. Plus—you'll absolutely love their sweet, buttery flavor!
Glazes & Spreads
To mix things up a little more, or to tailor the rolls to your other menu offerings, consider adding a sweet, buttery glaze or a savory compound butter to serve on the side.
Dips
These mini-sized rolls make perfect dunkable, dippable utensils for all your favorite dips, from spinach and artichoke dip to ooey-gooey cheese fondue.
Other (Breadcrumbs and Cubes)
The possibilities don't stop there—you can also use toasted (or leftover/stale) rolls for bread cubes, croutons, or homemade breadcrumbs in all types of dishes, like panzanella skewers, vegetable entrees, or your favorite breaded side dishes.
Dessert Recipes
Sweet Treats
Last but not least…we can't forget about dessert! Of course—the sweet new taste of Martin's Sweet Dinner and Sweet Party Potato Rolls is a perfect match for classic indulgences like bread pudding, milk chocolate, and even ice cream!
---
Sweet Mini Moments
Learn more about these products, and uncover even more mini moments at SweetMiniMoment.com!
Plus—Enter our Digital Scavenger Hunt for the chance to unlock a free sample of one of these sweet new products! Complete the form on our landing page to be entered in our limited-time sweepstakes, from now until December 2nd.
Product Gallery
---
Learn More:
Our latest content, delivered straight to your inbox.
Be the first to hear about our newest recipes, tips, and company updates!