All Posts
Recipes for Every Type of Dad
June 14, 2021
5 min. read
How would you describe your dad? Funny? Sweet? Old school? Every dad has his own unique parenting style, taste in clothing, and favorite use of free time. Perhaps your dad loves to take day trips to the lake and water ski for fun. Maybe your friend's dad would prefer whipping up some barbecue and gathering the family to watch the game in the living room.
No matter what type of dad or fatherly figure you grew up with, this Father's Day, we've collected a custom recipe for each unique type of dad. Keep reading to find the perfect recipe for yours!
If you have (or are) the kind of dad that spends a lot of time in the great outdoors, this recipe is for you. These classic Pie Iron Pizzas embody everything that a good outdoorsman knows about cooking in the wilderness; they're simple, packable, and, of course, delicious!
We all love a sweet, decadent dessert every once in a while. But, for some dads, a good dessert is always a must-have. This Chocolate Peanut Butter Cup Pie recipe—with Martin's Potato Bread crumb crust— is perfect for the dads who label their cupcakes, hide chocolate above the fridge, and always ask "what's for dessert?"
Does your dad patiently endure months of cold weather, holding on to hopes of sunshine and summertime, just so he can break out his grill or smoker on the first day above 70 degrees? Yep—we understand. For that dad, we recommend this delicious Burnt Ends Sandwich, made with seasoned brisket, smoked to perfection, and topped with pickled red onions!
Some dads just like to keep it old school—flip phones, fanny packs, white sneakers and all. If it sounds like we're describing your dad, check out this tasty egg sandwich!
This recipe keeps it old school, too, with layers of old-fashioned pork roll, over easy eggs, and cheese, all piled onto a Martin's Sandwich Potato Roll.
For the World Traveler Dad – Pav Bhaji
And then there are the dads who just love a good trip to a new place. You know, the ones who have stories from all of the locales they've visited in their lifetime. For that dad, we have a one-of-a-kind recipe given to us by one of our very own Martin's employees. Pav Bhaji is a classic Indian street food dish full of rich spices and perfect for dads looking for a new culinary adventure.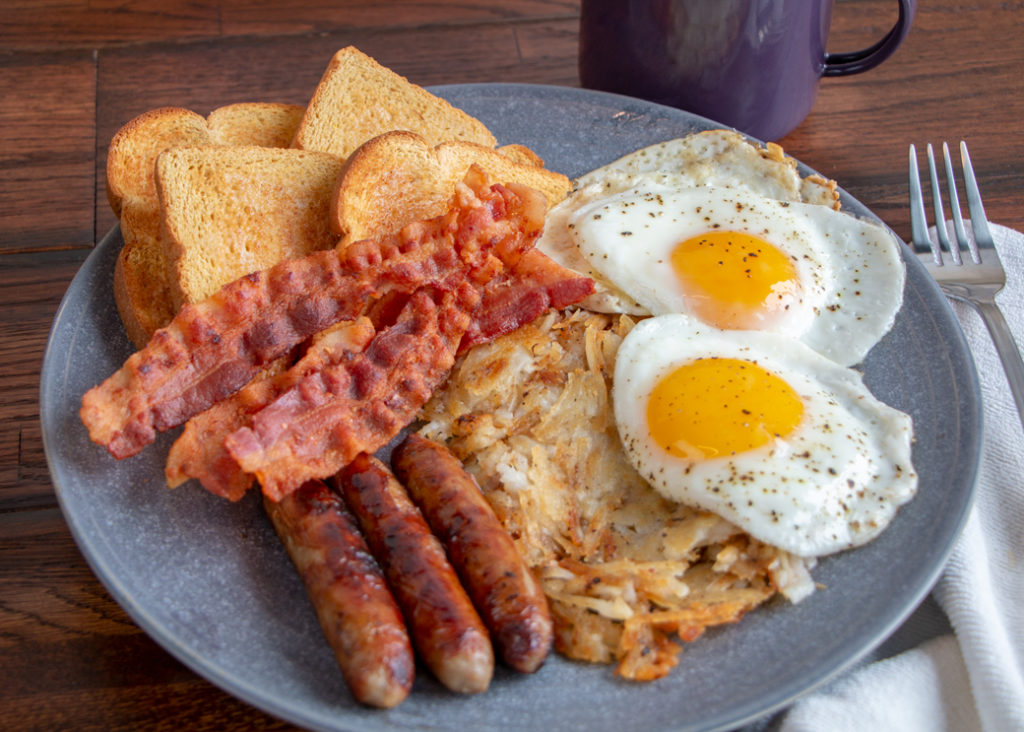 You know who we're talking about—the dad who has a strong internal alarm clock set to 6am and loves a big breakfast? This recipe for Lumberjack Breakfast was practically made for that type of dad.
Made with staple breakfast sides like bacon, sausage, and Martin's 100% Whole Wheat toast, this breakfast platter is sure to help your dad start his day off right.
We all know that dads are notorious for falling asleep in the most random of places (and, of course, with their feet propped up on the recliner). But some dads just have an extra go-with-the-flow personality that is truly up for anything and isn't bothered by much.
This Lazy Days of Summer Dog is perfect for the laid back dads. It's a classic hot dog topped with slaw, barbecue sauce, and, for a unique touch, your choice of crushed potato chips!
This one is for the dads who love being on the cutting edge of the next big "thing." It's for the ones who do their research on new smartphone features, who always have some kind of gadget on their wish list, and who love to figure out how things work.
Experience one of the newest kitchen gadgets—the air fryer—in a whole new way with this melty roast beef sandwich. You'll be amazed at the beautiful crispy crust created by the fryer's convection effect. But don't just read about it—try it for yourself!
Wagyu is rightfully hailed as one of the most delicious and high-quality types of beef. So, naturally, we think this Wagyu Burger Sliders recipe is the perfect "treat yourself" dish for dads who love to express their culinary creativity!
Beware: you may have a hard time eating just one! With gruyere cheese, thin-sliced pear, and a delicious whole grain mustard sauce, these sliders are super craveable!
If you've ever said "Hi Hungry, I'm Dad"…
If you've ever made your kids roll their eyes at your jokes…
If you're a pun master…
You might be a cheesy dad. And we've got the perfect cheesy recipe just for you! This Salami Pickle Grilled Cheese is packed with savory flavor that goes far beyond your basic grilled cheese recipe. Enjoy it fresh off the griddle for cheesiest results.
For the dads that are always active and spend lots of time taking care of their body, we recommend this tasty (and veggie-packed) panini! Featuring three different vegetables and a tasty mozzarella filling, this recipe will not disappoint in either nutrition or taste!
Check out our Healthy Lunches Under 400 Calories blog for more tasty and nutritious sandwich recipes!
This recipe is especially perfect for the dads that would rather spend their time watching the game than preparing an elaborate tailgate meal. "Brat Tub" Brats can be cooked ahead of time and then heated over a grill while you set up the flat screen or break out your folding chairs.
Of course, you don't have to be tailgating to enjoy them—try serving at a backyard barbecue, outdoor movie night, or family picnic!
And, finally, this one goes out to all of the brand new or soon-to-be dads out there. First of all, happy first Father's Day! Second, why not celebrate this joyous occasion with a delicious meal? We recommend: a Baby Back Rib Sandwich on Martin's Big Marty's roll. Congratulations!
No matter which kind of dad you are or which kind you love, we hope you enjoy delicious food on Father's Day this year. Thank you, dads and fatherly figures, for all that you do to make us who we are!
---
Related Blogs:
https://potatorolls.com/blog/fathers-day-interview/
https://potatorolls.com/blog/24-things-dads-say/
https://potatorolls.com/blog/food-for-parties-showers-and-special-occasions/
Our latest content, delivered straight to your inbox.
Be the first to hear about our newest recipes, tips, and company updates!