All Posts
Food for Parties, Showers, and Special Occasions
Throwing a party for or with a loved one can be such a special time to celebrate their accomplishments, life's milestones, or just what they mean to you. But, it can also feel like the pressure's on to create a perfect party where both the guests and person of honor are happy and having a good time throughout the entirety of the event.
If you're feeling the pressure of planning an upcoming shower, party, or celebration, you're not alone. Especially after a year of event cancellations, many people are busy creating boards on Pinterest, browsing theme options, and testing recipes that will result in meaningful events to honor their friends and family.
Keep reading for some of our best (and tastiest) ideas for serving food at all kinds of parties and special occasions!
For Your Wedding, Engagement Party, Bridal Shower…
One natural option for any wedding-related celebration (or the wedding itself!) are his and hers recipes, in which both the bride and groom are represented in custom versions of the food or drink being served. In the above variations, we chose two delicious slider recipes that can be served as hors d'oeuvres or part of a larger buffet table: Mini Beef and Sage Sliders (his) and Mini Salmon Sliders (hers). Check out our Wedding Food Inspiration Blog for even more ideas.
If you're opting to celebrate the bride or couple during the morning, there are plenty of creative breakfast and brunch options to choose from. For a real eye-catching display, we recommend setting up a Summer Berry French Toast Bar, so your guests have plenty of customizable options to choose from, like Cinnamon French Toast Bites and Berry French Toast Skewers.

Sometimes, all you need for an engagement party or shower are some grab-and-go sweet treats for your guests to enjoy while they mingle with friends and family. Many of these desserts can be prepped ahead of time for a worry-free, a la carte format. Check out our favorite recipes at the links above!
Bonus: Are you looking for a unique way to signify unity with your new spouse? Check out this couple's PB&J unity ceremony with Martin's Old-Fashioned Real Butter Bread!
Photo Credit: John Nozzi Photography
For Your Baby Shower…
Whether your baby shower theme involves woodland creatures, farm animals, florals, or sea creatures, you're probably looking for some great and fulfilling food (other than fox-shaped cookies) for your guests to enjoy! Why not try something a little unique and go with "baby-sized" or "mini" foods to fit the occasion! A few of our favorites (pictured above) are:
Bonus: For all you barbecue-loving parents or parents-to-be out there, check out this trendy new baby shower theme called a "baby"-que!
For Your Birthday Party…
Everyone deserves a little celebration on their birthday! If you're throwing an all-out birthday bash or a humble gathering with loved ones at home (or celebrating by yourself #quarantine), food can make a good birthday even better.
P.S. Did you know you can receive an email coupon for Martin's products on your birthday? It's true! You can sign up using this link: https://potatorolls.com/newsletter-signup/
We promise this Confetti Cake French Toast Casserole recipe will have you (and your tastebuds) celebrating all day long! It's a perfect birthday treat: the convenience of overnight French toast casserole combined with the classic birthday cake taste and sprinkles on top!
To make this recipe, start with squares of dried or toasted Martin's Old-Fashioned Real Butter Bread in a casserole dish. Then pour in a mixture of eggs, milk, cream, confetti cake mix, cinnamon, and vanilla extract and top with sprinkles. Then allow to soak, bake for 25 minutes, top with a cake mix and butter crumble, and bake until done in the middle and golden brown on top. Enjoy warm for a special birthday breakfast or dessert!
Check out our video tutorial for this recipe here:
For Your Housewarming…
Once you've closed on your contract, signed the deed, and moved all of the boxes into your new home, it's time to plan the housewarming party! After all the work you've already done, low-maintenance and make-ahead options will make serving guests a breeze. And, you can't go wrong with the classic charcuterie tray of meat, cheese, bread, and other antipasti.
Tip: You can even take it up a notch by arranging these appetizers and more into an elaborate grazing table for your guests to enjoy throughout the entire event!
For Your Mother's or Father's Day…
Whether your mom is a breakfast-in-bed type or a dress-up-and-have-tea type, we've got recipes for your celebration. We've put together some dainty, tasty, and pretty recipes perfect for any occasion in our Mother's Day Tea Recipes blog.
For some more hearty recipes to celebrate dad, check out our Father's Day blog, which includes an Ultimate Guide to Beef, plus a recipe for our Father's Day burger! Topped with pepper jack cheese, fried jalapeños, and chipotle ranch, it's a fiery recipe that dad is sure to love. If your dad would prefer a milder recipe, check out all of the other burger options on our website!
For Your Graduation Party…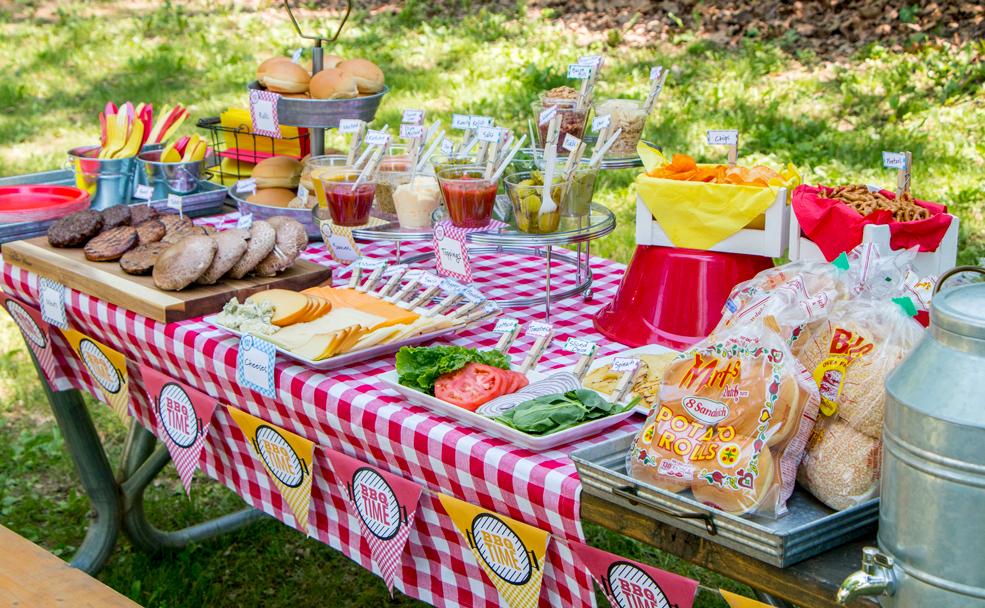 Celebrate graduations, promotions, going-away parties, accomplishments, and more with a classic (and crowd-pleasing) backyard barbecue! Keep things interesting with a burger or hot dog bar that allows your guests to choose exactly which toppings they want to add—from classic combinations to creative new variations.
Hint: this concept works great for nearly any party you see above—birthday parties, Father's or Mother's Day gatherings, even backyard weddings!
A key part of our mission here at Martin's is to create cherished eating experiences—from birthdays to milestone celebrations, holiday dinners to backyard cookouts, and family meals around the table. So, don't forget to bring our bread and rolls with you to all your occasions, celebrations, and parties to make them even more special!
We'd love to see what you're making on our rolls—be sure to tag us on social media and use the hashtag #SummerFunSeason!
---
Related Blogs:
Our latest content, delivered straight to your inbox.
Be the first to hear about our newest recipes, tips, and company updates!