All Posts
10 Melt-Worthy Sandwich Recipes
February 20, 2023
6 min. read
Are you an honorary member of the cheese-lovers' fan club? Join along on this week's blog as we detail two categories of cheese-stuffed sandwiches and discuss pro tips for crafting the perfect meal. So…stick around—these ooey, gooey, cheesy recipes are sure to warm your heart and *melt* away the winter blues!
All About Sandwich Melts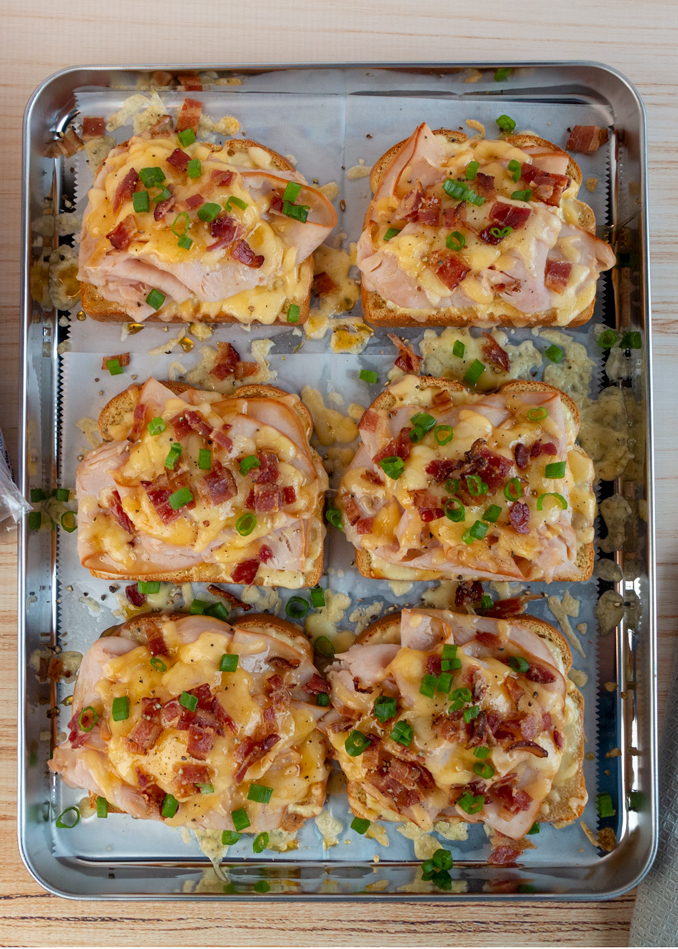 In general, a "melt" is any type of hot sandwich that contains melted cheese, along with other optional ingredients. This term can encompass a wide variety of other sandwiches, including the fan-favorite "grilled cheese." (Tip: Find more grilled cheese content on our blog.) Since this term is so far-reaching, for the purposes of this blog, we've decided to narrow it down to only include open-faced sandwiches with melted cheese.
Open-faced melts are a great way to showcase the star of the show (the cheese!) front and center. From classics like the tuna melt to more adventurous options, the sandwich melt is a perfect anytime meal for lunch, dinner, or snack time.
See for yourself with these 5 molten melt recipes using Martin's Famous Potato Rolls & Bread: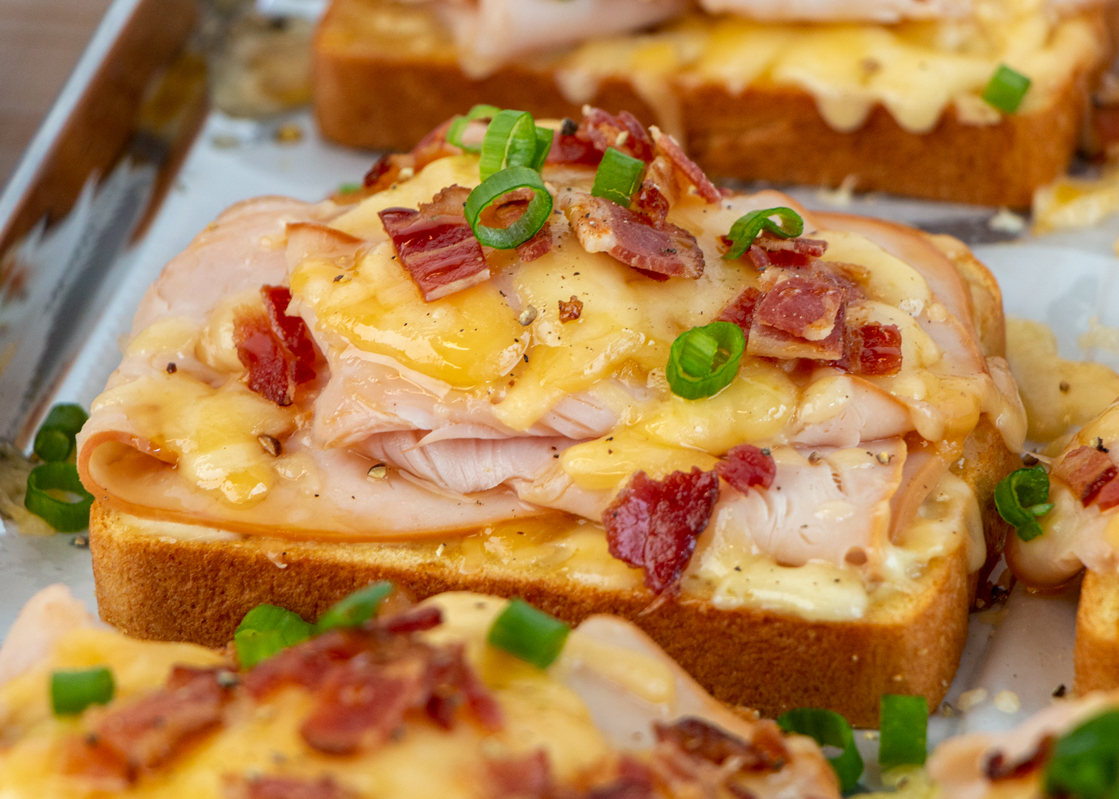 This savory masterpiece is stacked with Dijonnaise, smoked turkey breast, gouda and Havarti cheese, crumbled bacon, chopped scallions, freshly cracked black pepper, and a drizzle of sweet-and-spicy hot honey. Prep six to eight melts on a single baking sheet using Martin's 100% Whole Wheat Potato Bread, for a fun and trendy family brunch.
Bonus: Find this recipe on Pinterest here:
This twist on the classic dish, Welsh Rarebit, takes things up a notch by transforming grated cheddar cheese into a molten cheese sauce with the addition of non-alcoholic ale, butter, Worcestershire sauce, and egg yolks. The melty sauce floods the garlicky toasted Martin's Potato Bread topped with sliced gherkin pickles and chopped green onions for a tasty fork-and-knife style meal.
Sharp provolone cheese is the perfect selection to meld together the hot Italian sausage, caramelized onions, and hearty kale in this lively, year-round dish. Serve atop toasted Martin's Potato Bread for breakfast, lunch, or dinner.
This beloved favorite uses homemade tuna salad made with canned tuna fish, onion, pepper, boiled eggs, sweet pickle relish, mayonnaise, and Dijon mustard, topped with creamy muenster cheese and broiled until golden and bubbly. Use halved Martin's Sweet Dinner Potato Rolls for a denser chew and enhanced flavor contrast.
Construct these cute mini pizzas by arranging pizza sauce, mozzarella cheese, sliced pepperoni, and any other desired toppings onto your choice of Martin's bread. Then, bake in the oven for 5-10 minutes or until the cheese is fully melted and starting to brown. Get creative by mixing and matching your favorite pizza toppings!
---
All About Panini
"Panini" is the plural form of "panino," meaning "bread roll" in Italian, which describes the type of bread (such as ciabatta or focaccia) that is traditionally used to create these sandwiches. However, more generally, "panini" describes an Italian-style sandwich that is grilled or toasted until heated through. Today, panini are often cooked using a sandwich press (a.k.a., "panini maker"), a countertop cooking appliance with ridged heat plates on the bottom and top.
Panini are another variation on the grilled cheese sandwich, and can also include a variety of other ingredients such as vegetables, grilled chicken, and deli meats, that you might not ordinarily use for a basic grilled cheese.
Step up your sandwich game with these 5 delectable panini options:
Turn your favorite Italian restaurant order into a toasty sandwich with these chicken parmesan panini! Two thin grilled chicken breasts, shredded mozzarella cheese, sautéed mushrooms and onions, and fresh basil leaves make up the filling for this robust, all-in-one dinner option.
Bonus: Learn how to make this recipe in the step-by-step video below!
This hefty sandwich brings together sweet and savory flavors with a combination of deli-style ham, gruyere cheese, chipotle mayo, and Martin's Cinnamon-Raisin Swirl Potato Bread. Enjoy for lunch or dinner, or however your heart desires.
This warm, grilled panini stuffed with balsamic-and-rosemary-marinated chicken breast, crispy bacon, and crumbled blue cheese, on Martin's Potato Bread makes for a wholesome and delicious dinner option.
Go back to basics by using an Italian-inspired Martin's Hoagie Roll as the vehicle for this grilled zucchini, red onion, and bell pepper, mozzarella cheese, and Italian herb oil filled panino. Use a cast iron grill pan with a heavy weight on top, or a panini press to achieve those gorgeous grill marks.
You can turn any sandwich into a panini using a grill pan or sandwich press. Try this turkey club option using thick-cut turkey, Havarti cheese, bacon, arugula, and creamy Caesar dressing, or substitute with your favorite spread, like onion and bacon jam, apricot jelly, or honey mustard. The options are endless!
---
Melts and Panini FAQs
What is a melt?

A melt is an open or closed sandwich that includes melted cheese among other optional ingredients.

What is a panini?

A panini or panino is an Italian-style sandwich that is often grilled or toasted and served warm. It may contain a variety of ingredients including meat, cheese, and/or vegetables.

What's the best cheese for melting?

Semi-soft to semi-firm cheeses often melt the quickest and most efficiently when it comes to making a grilled sandwich or panini. Check out our Ultimate Guide to Cheese to learn more about the various types of cheese and to find tips for making the perfect grilled cheese sandwich.

What is the difference between a melt and a grilled cheese sandwich?

A melt is a broad category of food encompassing any heated sandwich made with melted cheese, whereas a grilled cheese is a specific type of sandwich most frequently made with cheese, bread, and butter, but it may include other elements as well.

What is the difference between a sandwich and a panini?

A sandwich is any selection of ingredients served between two slices of bread, whereas a panini is a specific type of sandwich that is typically grilled or toasted and is often served on Italian-style bread or rolls.

What is the best bread to use for sandwich melts and panini?

Any bread will do! Try Martin's classic sandwich breads including Potato Bread, Butter Bread, or Whole Wheat Potato Bread, or use one of our many roll options such as Slider Potato Rolls or Hoagie Rolls.
More Cheesy Sandwich Recipes:
Find more ideas at https://potatorolls.com/recipes.
---
Melt with Martin's
Are you an expert at making cheesy sandwiches? Join #MartinsCheesePull Challenge on Instagram!
To Participate, go to Instagram and do one of the following:
Upload an original cheese pull reel using #MartinsCheesePull and Martin's original audio, "The Taste is Golden Remix."
Go to our @potatorolls Instagram channel and remix our pinned cheese pull reel.
Every Friday from now until March 17, Martin's will award $100 to the reel with the most views!
Learn more at https://potatorolls.com/melt.
---
Related posts:
Our latest content, delivered straight to your inbox.
Be the first to hear about our newest recipes, tips, and company updates!