All Posts
Product Highlight: Old-Fashioned Real Butter Bread
August 6, 2018
5 min. read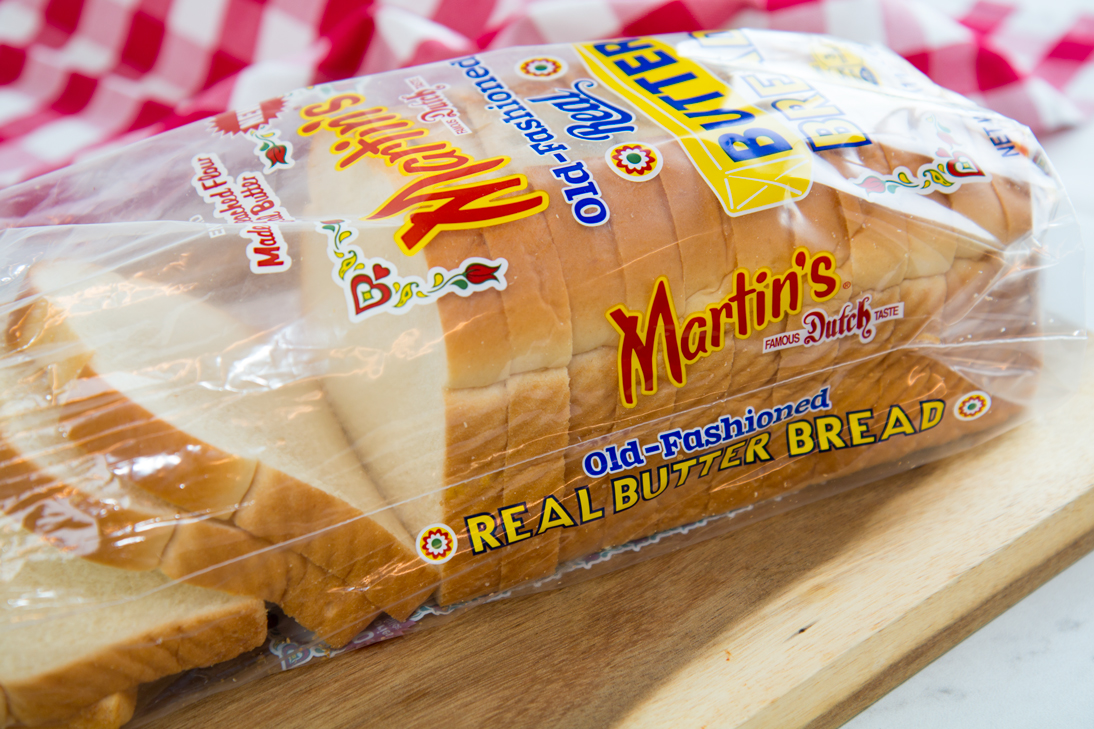 We understand the importance of family, strong values, and high-quality ingredients—it's what we were founded on. And we believe that every meal should feel like it's straight from the heart of Grandma's kitchen.
That's the inspiration behind Martin's Old-Fashioned Real Butter Bread.
Butter Bread combines the nostalgia of days gone by with the great taste and high quality that customers like you love and expect from Martin's. Just like those irreplaceable moments we share with our family around the dinner table, it is so much more than a meal.
About Martin's Old-Fashioned Real Butter Bread
Since we introduced this product to the market in January 2017, Martin's Old-Fashioned Real Butter Bread has been a welcome addition to our bread family. It is the first non-potato-based product in our sliced bread line, and the third in our full retail product line (after Big Marty's Rolls and Hoagie Rolls).
Martin's Butter Bread is a premium white bread made with high quality ingredients including real butter. Our commitment to quality is what sets this bread apart from other brands and makes it superior to other white breads on the shelf in terms of taste, texture, and substance.
In fewer than two years, Butter Bread has already become a fan favorite and top-selling product for Martin's. Hear what some of our customers have had to say about our newest product:
"I got this bread by mistake one day…And let me just say it's the best bread I've had since bakery fresh bread. I can only imagine how awesome it is right out the oven. Keep doing a great job. It was best mistake I had happen that day."
"I've tried the newest [Butter Bread] loaf. It's great, fresh and soft all the way through. It's just my husband and I so we don't go through bread very fast, but your loaf stays fresh…Thanks again for making a great product."
"I saw the butter bread on your site and had to try it. Well let me tell you, it's ten times better than the other [brand of] bread. I have actually had sandwiches for breakfast the past two days and lunch too…The best have been my pb&jam and my fluffernutter. Thanks for not only having the greatest bread around but also giving me the sweetest childhood memories."
"I bought a loaf of the butter bread and it brought me back to the bread my mom used to make. Will definitely keep on buying it. Y'all at Martin's have a true customer for life."
"This bread makes the best French Toast I have ever made. Just the right texture and taste is unbelievable. Thanks!"
Fun Fact:
Our use of 100% real butter without any additional oils is what earns Old-Fashioned Real Butter Bread its name!
More Facts about Martin's Old-Fashioned Real Butter Bread:
80 Calories per serving (slice)
Made with high-quality ingredients including high protein wheat flour, nonfat milk, real cane sugar, and real butter.
No High Fructose Corn Syrup
No Artificial Dyes
No Azodicarbonamide (ADA)
No Trans Fats
No Cholesterol
Non-GMO
Kosher classification of "K Dairy"
Find more information about this product at: https://potatorolls.com/products/butter-bread
*  *  *
Why "Old-Fashioned?"
Sometimes it's nice to escape the busy and chaotic times of the present and think back to a time when life was simpler. Whether, for you, that means a previous era or your own childhood, the simplicity of "the way things used to be" can be a refreshing thought.
old-fash·ioned: not modern; belonging to or typical of a time in the past; using or preferring ways and traditions of the past; suited to or favoring the styles, methods, manners, or ideas of earlier times; reminiscent of past times
Our company has deep roots. Back in 1955, Lloyd and Lois Martin started baking bread and rolls out of their small garage bakery, based on a recipe that had been passed down from a previous generation. While we've certainly grown and expanded over the years, our commitment to producing high-quality products remains the same.
Martin's Old-Fashioned Real Butter Bread exemplifies these same ideals. Carefully crafted using quality ingredients, it's reminiscent of Grandma's kitchen full of freshly baked breads and homemade treats. But more than that, we hope it brings to mind cherished family memories, with each and every bite.
You may also be wondering: "Why make a white bread?"
For one thing, what's more nostalgic of childhood than a good ol' peanut butter and jelly sandwich on sliced white bread? But more importantly, we saw a need in the bread market for a high quality white bread—one that doesn't crumble in your hands or stick to the roof of your mouth.
So Martin's Old-Fashioned Real Butter Bread was born. Go ahead and enjoy it fresh out of the bag, use it for sandwiches, casseroles, and bread puddings, or try it with a simple coating of jam or butter.
Whatever you decide, we know you'll taste the difference.
*  *  *
Featured Recipes:
Thinking back to your grandmother's style of cooking, you probably think of cozy comfort food dishes like casseroles, puddings, and pies. Well, what better use for Martin's Old-Fashioned Real Butter Bread than some delicious seasonal dishes made with the best of summer's produce?
Summer Squash and Sweet Corn Casserole
Prepare a great summer side dish using locally grown yellow squash, zucchini, and fresh-picked sweet corn. This yummy casserole is topped with fresh Butter Bread-crumbs and grated asiago cheese for a classic homestyle finish.
https://potatorolls.com/recipes/summer-squash-sweet-corn-casserole
Grandma's Corn Puddin'
This southern-style favorite, made with homemade creamed corn, eggs, milk, butter and cubed Martin's Butter Bread, is comfort food at its finest. Using fresh sweet corn makes this a perfect pairing beside some smoky summer barbecue.
https://potatorolls.com/recipes/grandmas-corn-puddin
Peach Bread Pudding with Brown Sugar Sauce
Juicy ripe peaches add a great summer flavor boost to this layered bread pudding dish using whole slices of Butter Bread. Top with a homemade brown sugar sauce for a delicious and flavorful dessert.
https://potatorolls.com/recipes/peach-bread-pudding
More Recipes
Martin's Butter Bread makes amazing sandwiches, French toast, casseroles, and more! Try it with your favorite breakfasts, lunches, dinners, and desserts.
Old-Fashioned Comfort Food:
Nostalgic Sandwiches:
Creative Classics:
Fresh and Flavorful:
Our latest content, delivered straight to your inbox.
Be the first to hear about our newest recipes, tips, and company updates!