All Posts
Hot Dogs 101: Pro and Beginner Roasting Tips
July 5, 2022
11 min. read
Happy National Hot Dog Month!
Did you know July is National Hot Dog Month? That's right—an entire month devoted to one of summer's favorite food groups. Chances are you may have even cooked up some hot dogs just this past weekend during your 4th of July cookout!
Well, we're all for this special food celebration. So much so, in fact, that we're giving away a brand new smokeless fire pit (perfect for roasting hot dogs!) from now until July 31, along with 20 hot dog themed runners-up prizes, as part of our Summer Fun Season Sweepstakes. Enter for your chance to win at MartinsSummerFun.com!
You can learn more about this month's prize below. But first, let's take a look at some great hot dog tips and recipe ideas, plus refresh our memories on the benefits of campfire cooking.
Hot Dog/Roasting Tips for Pros (The "Traditional" Method)
Roasting hot dogs over an open campfire is one of the most iconic scenes that comes to mind when dreaming of summer. But it's not quite as simple as it seems. Here are some tips to perfecting your flame-roasted hot dog:
Tips & Tricks for Roasting Hot Dogs:
An expertly cooked hot dog is juicy and plump on the inside, browned or lightly crispy/charred on the outside, and, of course, heated all the way through.
To prevent having a char-blackened hot dog with lukewarm interior, be sure not to hold your hot dog too close to the flame or build too large of a fire.
An ideal fire for roasting hot dogs uses a few hardwood logs (which burn longer and slower), burned down slightly to establish a bed of hot coals (but not too hot).
Choose for your roasting stick a long, two-tonged, metal skewer with a heat-proof handle. This helps the hot dog cook evenly and stay in place while you rotate the stick, and also prevents your hand from getting too hot.
To roast your hot dog, place it on the skewer, hold over the open flame (but not too close), and slowly spin it continuously or rotate it every 30 seconds until browned and heated through. (About 2-3 mins total.)
Pro Tip: Try wrapping your hot dog in bacon first before roasting it for a delicious variation! P.S., Be on the lookout for more hot dog topping ideas further down in this article, and in our upcoming blog post!
Looking for other ways to cook a hot dog? Scroll down to see how this method compares to alternatives such as grilling, pan-frying, boiling, oven-roasting, and more. Plus—try our easy-peasy "beginner" method using an air fryer!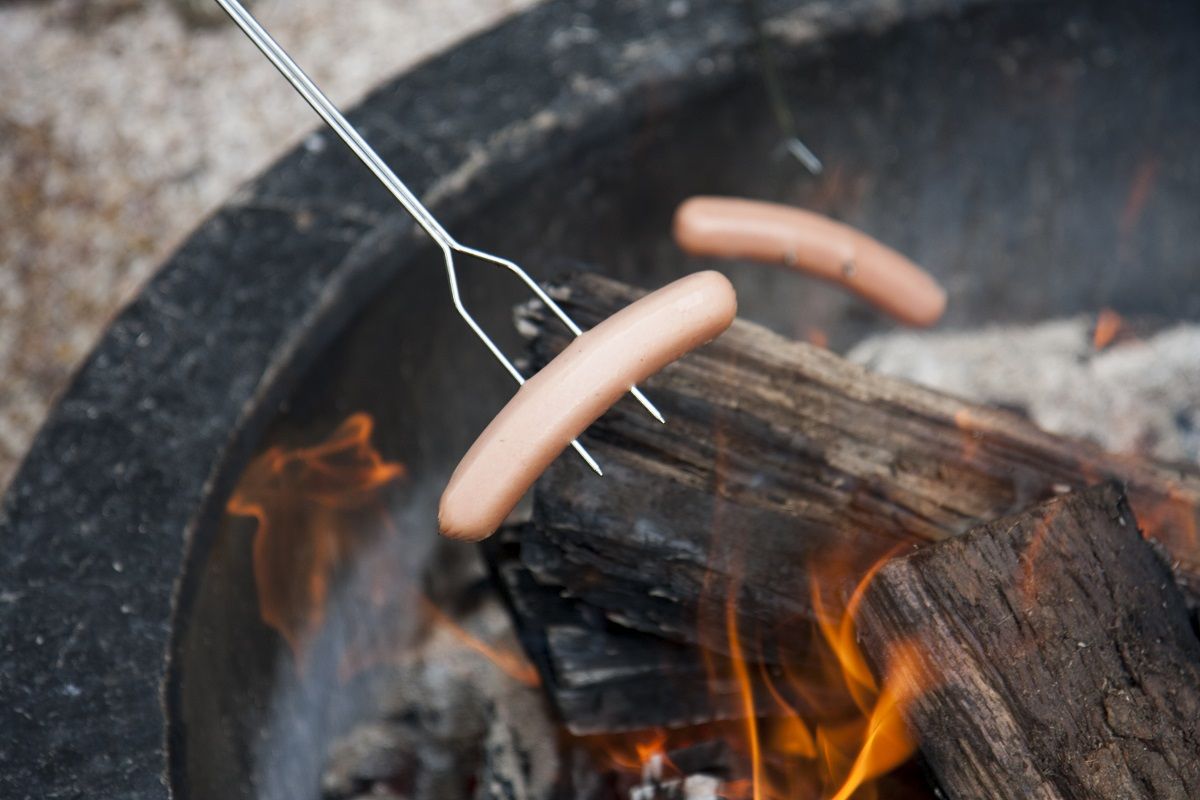 Campfire Cooking 101
Of course, hot dogs are not the only thing you can cook over a campfire. Take a look at these campfire cooking best practices for other kinds of foods.
Be careful not to build too large of a fire; otherwise, it will burn too quickly and be too hot to cook with. Instead, begin with a small fire using kindling and smaller logs and allow the fire to burn down to produce hot coals, then add a few larger logs as needed to keep the fire going for the length of cooking process.
For most foods, you do not want to cook too close to the open flame for risk of burning or unevenly cooking the food. Consider using a digital thermometer to double-check the internal temperature of whatever you are cooking.
Consider building your fire off to one side of your fire pit and arranging hot coals on the other side. This dual-cooking-zone setup will allow you to cook a variety of things requiring different temperatures or alternate food as necessary. For example: you can boil water or grill meat and veggies on a grill grate over direct heat while cooking foil pack meals or Dutch oven desserts directly on top of the hot coals.
Don't forget about these other favorite campfire foods:
Explore more camping content in our Blog and Recipe archives.
About the Solo Stove Yukon 27" Smokeless Fire Pit
For our Martin's Summer Fun Season July sweepstakes prize, we are giving away a Solo Stove Yukon Smokeless Fire Pit. This 27" wide by 17" tall stainless steel fire pit is large enough to gather around with friends in the comfort of your own cozy backyard. While it is primarily intended as a backyard fire feature, it is also perfect for roasting hot dogs and marshmallows. Solo Stove Fire Pits are crafted with unique technology that allows for increased air flow, a hotter flame, and little-to-no smoke, making for a much more efficient burn and enjoyable fireside experience.
Additionally, Solo Stove offers optional accessories for all of its fire pits to make your backyard camping experience that much more special. Whether you get the chance to become our lucky grand prize sweepstakes winner or you just decide to pick out your own fire pit this summer, consider checking out some of the great add-on features such as:
Stand (which allows you to use the fire pit on heat-sensitive surfaces)
Lid (for added weather protection and functionality)
Handle (for easier carrying)
Fire Pit Tools (to help tend to your fire)
Roasting Sticks (for cooking up hot dogs all summer long)
Cooking System Attachments (including Cast Iron Griddle, Wok, and Grill)
and more!
For more details on this specific model, check out the resources below or visit www.solostove.com.
---
Featured Recipe: Fire-Roasted Hot Dogs from Bartlow's BBQ
To demonstrate how the Solo Stove Yukon works, we asked Scott Bartlow of Bartlow's BBQ to create a custom recipe for us using Martin's Potato Rolls. Check out the video below to learn how to make his Bacon Wrapped Mac & Cheese Dog and hear his pro tips on roasting hot dogs over a fire pit. Then, head over to MartinsSummerFun.com for the official recipe!
"Are you looking for a fun summer grilling creation? Can I make a suggestion? Bacon Wrapped Mac N Cheese Dog topped with powdered spicy cheese puffs! We smoked the mac n cheese first and roasted the bacon wrapped dogs on the Solo Stove Yukon. Simply slide your dog onto a tasty Martin's Potato Roll and slap on some mac n cheese! Martin's Potato Rolls inspired me on this creation!"
Bacon Wrapped Mac & Cheese Dog
Ingredients
8 Martin's Long Potato Rolls
8 Hot Dogs
8 Slices Thin-Sliced Bacon
Mac N Cheese

Aluminum Pan
36 Ounces Elbow Macaroni
1 (16-Oz.) Block Velveeta Cheese, cubed
4 Cups Milk
1 (8-oz.) Block Cream Cheese
1 (16-Oz.) Block Sharp Cheddar Cheese, shredded
1 (8-Oz.) Block Gouda Cheese, shredded
BBQ Rub, to taste
1 Dash Hot Sauce
Panko Bread Crumbs

Spicy Cheese Puffs
BBQ Rub:

1 cup Kosher Salt
1/3 cup Course Black Pepper
1 Teaspoon Monk Fruit Sweetener
1 Teaspoon Chili Powder
1 Teaspoon Chipotle Powder
1 Tablespoon Garlic Powder
1 Tablespoon Granulated Dried Onions
1 Tablespoon Paprika
Instructions
For the Mac N Cheese:
Add 36 ounces macaroni noodles to an Aluminum Pan.
Add 16 ounces Velveeta cheese, cubed, in the center of the pan.
Add 4 cups milk and 1 block cream cheese.
Sprinkle with sharp cheese & gouda.
Add BBQ rub and a dash of hot sauce.
Set smoker to 350 degrees F.
Smoke the Mac 'N' Cheese for 30 minutes, and then stir.
Smoke for an additional 30 minutes after stirring.
Add panko, mix, and smoke for an additional 15 minutes.
For the Bacon Wrapped Hot Dog:
Wrap thin sliced bacon around your hot dog.
Sprinkle your rub on top of the bacon.
Attach the bacon wrapped hot dog to Solo Stove sticks.
Fire up your Solo Stove using kiln dried fire wood and once you have a clean burn, start roasting and rotating the sticks like a rotisserie until the bacon is crispy.
Slide your bacon wrapped dog onto your Martin's Potato Rolls, then scoop some mac 'n' cheese on top of your dog.
Take some spicy cheese puffs and smash them until they are powder, then dust the top of your mac 'n' cheese.
Now, enjoy your bacon wrapped mac 'n' cheese dog.
Learn how to make this recipe at: https://www.martinssummerfun.com/recipes/bacon-wrapped-mac-n-cheese-dog
---
Hot Dog Cooking Tips for Beginners (The "Easy" Method)
Roasting a hot dog over an open fire sure has its benefits: that great smoky flavor and lightly charred exterior, not to mention the fun hands-on experience… So what should you do if you don't have a fire pit and aren't planning a camping trip any time soon?
The good news is that hot dogs are one of the most versatile foods—there are so many great ways to cook them, each with its own perks. For starters, you can't go wrong with a classic grilled hot dog!
Here are some of our favorite alternate cooking methods:
All The Ways to Cook a Hot Dog
Grilled – For a classic smoky flavor and slight char, with picturesque grill marks.

Pro Tip: set up dual heat zones on your grill so you can slowly heat the hot dogs on the cooler side until cooked through, then transfer to the hot side for a final sear.

Pan-Fried – For a seared & crispy exterior and still-juicy interior, with plenty of flavor.

Pro Tip: add a touch of water to the pan for a steamed effect or cook in a bit of melted butter or oil (or even bacon grease!) for added flavor.

Oven-Roasted – For large-batch cooking indoors, producing well-browned and juicy hot dogs.

Pro Tip: finish them off under the broiler for about a minute for a nice crisping effect!

Boiled – For that classic street food-style dog, with a juicy and flavorful interior.
Microwaved – For a quick fix in under a minute!

Pro Tip: wrap the hot dog in a paper towel first to keep in the moisture, then cook on 90% power for 30-40 seconds or until warmed.

Air Fryer – For a super-simple hot dog with a crispy exterior, cooked in just 3 minutes with no additional ingredients needed.

Pro Tip: try topping your dog with another air-fried ingredient like Fried Pickles!

Slow Cooker – For a slow-cooked ballpark-style hot dog, perfect for large parties and potlucks.

Pro Tip: if you stand the hot dogs (regular length) upright, you can fit in up to 3 or 4 dozen depending on your party size.

Multi-Cooker (e.g., Instant Pot) – For a pressure-steamed hot dog similar to the slow cooker method but in a fraction of the time. Cooks in under 3 minutes!
Find instructions for all of these cooking methods here: https://potatorolls.com/recipes/classic-hot-dog.
To demonstrate the last method above, here's a look at the step-by-step recipe!

How to Make Instant Pot Hot Dogs
Serves 8; Cook Time: 2-3 Minutes
Before After
Ingredients
8 Hot Dogs
1 Cup Water
8 Martin's Long Potato Rolls
Desired Condiments & Toppings
Directions
Add hot dogs (as many as needed, without overfilling the pot) and 1 cup of water to the bottom of a 6-qt. multi-cooker.
Lock lid in place and set valve to "sealing."
Select "High Pressure" and a cook time of 0 minutes. (Hot dogs will cook during the preheating phase while the multi-cooker comes up to pressure.)
When the multi-cooker indicates it is finished cooking, do a "quick release" of the pressure by turning the release valve to "venting." Be careful to avoid the steam as it is released.
Remove the lid and serve hot dogs with desired toppings.
Full recipe: https://potatorolls.com/recipes/classic-hot-dog (method #5)

More Hot Dog Resources
Martin's Summer Fun Season Reminder
Remember to visit https://MartinsSummerFun.com to enter for your chance to win a Solo Stove Yukon!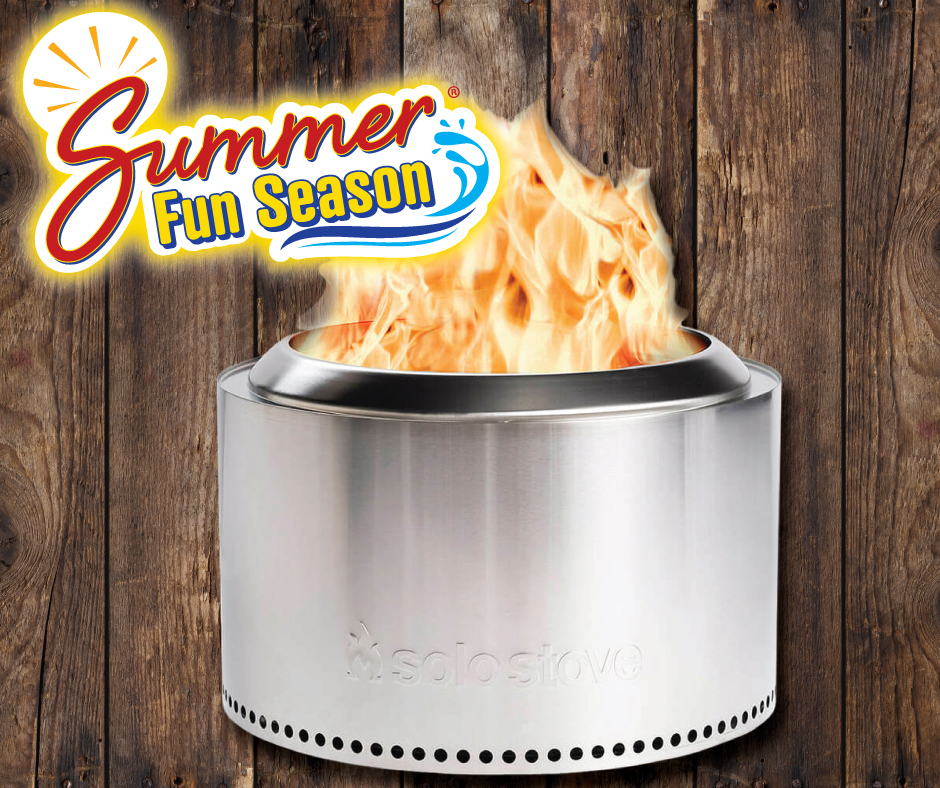 1st Place – Solo Stove Yukon Smokeless Fire Pit

Runners-Up Prize: Martin's Long Potato Rolls, Martin's branded condiment caddy, Martin's branded hot dog sticks, Martin's branded hot dog trays, and miscellaneous Summer Fun Season items
Coming Up Next:
Check back later for more hot dog-themed content!
July 5: Hot Dogs 101: Pro and Beginner Roasting/Campfire Tips (This Post)
July 13: The Ultimate Guide to Hot Dogs (and Other "Tubular" Foods)
July 20: Hot Dog Condiments and Toppings Guide + Martin's Featured Recipe
Our latest content, delivered straight to your inbox.
Be the first to hear about our newest recipes, tips, and company updates!