All Posts
Summer Fun Kick Off
April 26, 2021
6 min. read
Late April may seem a bit early to start thinking about summer, but after the chilly winter we just had, not to mention the far-from-ordinary summer of 2020, we say it's never too early to get excited for the sunny weather on the horizon!
Late spring through early summer is the perfect time of year for a variety of activities such as gardening, walking or riding bikes, grilling outdoors, and hosting picnics or barbecues. Browse the below resources to learn how to make the most of the warm weather season, then try out our featured recipes!
Seasonal Resources
For Spring:
For Summer:
Get a head start on your summer planning with our Summer Bucket List. Explore the list of over 150 ideas for inspiration, then use the fill-in-the-blank activity page to build out your personal check list of all the things you want to see, do, or eat before summer's end!
Are you looking forward to hosting friends or family this summer? It's never too early to start planning your next big backyard bash! Use our Ultimate Outdoor Cookout blog as your how-to guide to work through all the logistics—from picking a date and theme, to menu planning, décor inspiration, and activity ideas!
Dust off your grill and refresh your memory on all things outdoor cooking. Explore our Grilling Resources page for a few quick tips on cooking different types of meats, grilling and barbecuing hacks, and summer recipe ideas!
Springy Summer Recipes
During this in-between time where we're eagerly anticipating summer but still cherishing the best of spring, why not try some creative "crossover" recipes? Our featured recipes below are the ultimate combination of fresh, homegrown flavors of spring paired with the chargrilled taste of summer.
Flavorful chicken patties, made with ground chicken mixed with breadcrumbs, parmesan cheese, Worcestershire sauce, garlic, and homemade ranch dressing, are grilled to perfection and served up on Martin's Sandwich Potato Rolls with butter lettuce, tomato, and onion.
Get the recipe: https://potatorolls.com/recipes/grilled-chicken-and-homemade-ranch-burgers
How to Make Homemade Ranch Dressing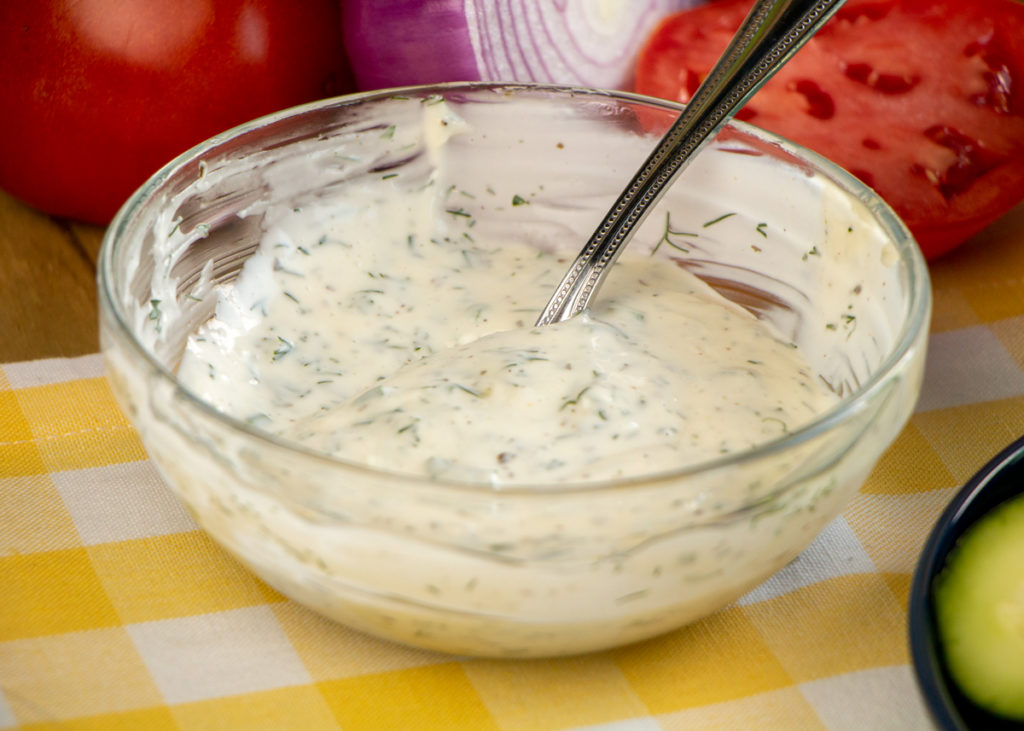 Be sure to mix up some extra ranch dressing to serve atop your burgers or as a side dipping sauce for fresh veggies like cucumbers and carrots! Bonus: if you're planning to grow your own herbs like parsley, chives, or dill, you'll have an endless supply of this refreshing condiment all season long!
Homemade Ranch Dressing:
Ingredients
1 Cup Mayonnaise
1/2 Cup Sour Cream (or Buttermilk)
1/2 Tablespoon Fresh Chives, chopped
1/2 Tablespoon Fresh Parsley, chopped
1/2 Tablespoon Fresh Dill Weed, chopped
1/4 Teaspoon Garlic Powder
1/4 Teaspoon Onion Powder
1/8 Teaspoon Salt
1/8 Teaspoon Ground Black Pepper
Directions
In a large bowl, whisk together all ingredients until combined and smooth.
Cover and refrigerate for 30 minutes.
Serve as a dipping sauce or topping for your favorite recipes, like these Grilled Chicken and Homemade Ranch Burgers.
Recipe: https://potatorolls.com/recipes/homemade-ranch-dressing
Liven up your favorite grilled hot dog with some homemade pickled veggies, fresh from your garden! This bright and colorful topping uses apple cider vinegar, mustard seeds, coriander seeds, pickles, peppers, onions, and dill; plus it's simple to prepare and makes the perfect complement for grilled burgers, chicken, subs, sandwiches, and more!
Get the recipe:  https://potatorolls.com/recipes/grilled-hot-dogs-with-homemade-dill-pickle-relish/
How to Make Homemade Pickle Relish
Pickling is a great way to use up all the excess veggies from your garden—everything from cucumbers and onions to peppers and fresh herbs. Plus: the pickling liquid helps preserve the vegetables and—if processed properly—you can produce shelf-stable produce that lasts long past the typical growing season!
Homemade Dill Pickle Relish:
Ingredients
1 ½ Cups Apple Cider Vinegar
1 Teaspoon Mustard Seeds
1 Teaspoon Coriander Seeds
6 Large Dill Pickles, finely diced
1 Small Red Pepper, finely diced
1 Small Yellow Pepper, finely diced
1 Small White Onion, finely diced
2 Tablespoons Fresh Dill, chopped
Salt
Pepper
Directions
Bring vinegar, mustard seeds, and coriander seeds to a boil in a medium non-reactive saucepan. Cook until reduced by half and slightly syrupy.
Remove from heat, add remaining ingredients, and gently toss to coat. Season with salt and pepper, to taste.
Cover and refrigerate for at least 1 hour before serving.
Try as a topping for your favorite recipes, like these Grilled Hot Dogs with Homemade Dill Pickle Relish.
Recipe: https://potatorolls.com/recipes/homemade-dill-pickle-relish
---
Introducing Martin's Summer Fun Season 2.0
Summer Fun Season is back—and better than ever!
If you've been following along on our blog and social media channels (not to mention purchasing our products) for more than a year, then there's a good chance you heard about our newest summer promotion: Summer Fun Season! Last summer, we gave away eight amazing prizes to fans who entered our sweepstakes—all themed around popular summer activities.
Well this year, we're bringing you even more great content including: five summer themes—each with their own set of 1st, 2nd, and 3rd place prizes; fresh new recipes made with Martin's Potato Rolls and Bread; seasonal inspiration; limited edition product packaging; and much more!
Check out the full prize schedule below, then head on over to https://MartinsSummerFun.com to enter!
Summer Fun Season Prize Schedule:
Date Range
Prize Description
Submission Period #1:
April 25, 2021 – May 17, 2021
"Gear Up For Summer"
1st Place – Large Gas Grill
2nd Place – Vertical Porch Garden
3rd Place – Two Infinity Chairs
Submission Period #2:
May 18, 2021 – June 7, 2021
"Get Movin'"
1st Place – Electric Scooter
2nd Place – Suitcase Set
3rd Place – Picnic Basket
Submission Period #3:
June 8, 2021 – June 29, 2021
"Hit the Water"
1st Place – Float Oasis
2nd Place – Pull-Behind Boat Tube
3rd Place — Burger Float
Submission Period #4:
June 30, 2021 – July 14, 2021
"Let's Party"
1st Place – Cooler
2nd Place – Custom Corn hole Boards
3rd Place – Spikeball
Submission Period #5:
July 15, 2021 – August 5, 2021
"Relax"
1st Place – Inflatable Hot Tub
2nd Place – Smart Speaker
3rd Place – Portable Hammock
Round 1 Preview: April 25 – May 17, 2021
First up in our sweepstakes calendar is our "Gear up for Summer" theme which includes the following prizes: a large gas grill (1st place), a vertical porch garden (2nd place), or two infinity chairs (3rd place). Any of these three items would make for a perfect way to prepare your backyard deck or patio for the upcoming warm weather season!
(Pro Tip: these prizes also pair perfectly with the recipes and resource ideas featured in this blog post!)
Head on over to https://MartinsSummerFun.com to enter!
Our latest content, delivered straight to your inbox.
Be the first to hear about our newest recipes, tips, and company updates!