All Posts
Mix & Match Meals: Soups, Salads, and Sandwiches
October 19, 2020
3 min. read
Appearing on café menus everywhere, a "choose two" option is one of the most popular ways to generate a perfect lunch pairing—choosing from delicious salads, warm soups, and classic sandwiches to customize your own ideal lunch combination. And there are so many tasty options to choose from! For soup alone, you could choose anything from a light chicken soup to a hearty clam chowder. Not to mention all of the salad and sandwich ingredient variations!
We know there are a ton of options to choose from to make a great meal combo. In fact, you may already have your own go-to favorites! But, we're bringing some fresh inspiration with recipes that make a great soup and salad pair. Plus, keep reading for our guide to eight more delicious recipe combos, right from the Martin's Test Kitchen!
Meal Combo #1
Featured Soup Recipe: Tuscan Style Chicken Soup

https://potatorolls.com/recipes/tuscan-style-chicken-soup/
It may be cliché to say that this chicken soup will warm you up from the inside out, but it's true! Hearty ingredients like potatoes and chicken breast are stirred together with fresh vegetables to create a balanced taste that's perfect for cool fall or winter days.
To prepare the soup, just sauté sliced onion, garlic, thyme, celery, carrots, and potatoes in a large saucepan. Then, add chicken stock, salt, and pepper and allow to simmer. Finally, add in cannellini beans, cooked chicken, and kale to the soup in the last few minutes. Top with fresh parsley, grated parmesan, and sprigs of fresh thyme and serve in bowls alongside Martin's Butter Bread or Martin's Party Potato Rolls.
For a delightful meal combo with this light and savory chicken soup, we think you'll love…
Featured Salad Recipe: Grilled Apple Tossed Salad

https://potatorolls.com/recipes/grilled-apple-tossed-salad/
When it comes to adding fall produce to a recipe, you can't go wrong with some fresh apples! This recipe ties in so many delicious flavors you'll love: sweet honey and apples, salty and rich bleu cheese, savory balsamic dressing, and just a touch of spicy sriracha.
To make this salad, toss sliced apples with some of the prepared dressing. Then, place on a grill pan over medium heat until tender and browned. Toss salad greens with remaining dressing and top with grilled apples, walnuts, cheese, and Martin's Cinnamon-Sugar Swirl Potato Bread croutons.
Plus, Bistro Flank Steak Sandwich

https://potatorolls.com/recipes/bistro-flank-steak-sandwich/
If you'd prefer a combo with a sandwich option, we recommend pairing our Bistro Flank Steak sandwich with either of the two unique recipes above. Its tangy ingredients like flank steak and grilled peppers complement both the fruitiness of the apple salad and the lightness of the broth-based chicken soup.
Meal Combo #2
Cauliflower Butter Bean Soup + Fig and Manchego Salad with Herbed Croutons + Turkey and Havarti Club Panini
For our next meal combo, we used two recipes from our Winter Meal Plan and added a delicious panini. The homey and comforting taste found in the Cauliflower Butter Bean Soup is a perfect match for this flavor-packed Fig and Manchego Salad. And, completing the trio is the Turkey and Havarti Club Panini, which ties the grouping together, with salty elements of Havarti cheese and bacon, as well as fresh arugula and your choice of jam or spread.
Meal Combo #3
Texas Red Chili + Pickle Panzanella Salad + Mediterranean Veggie Sandwich
Finally, we've got a triplet of dishes that features a rich, hearty soup matched with a light panzanella salad and a vegetarian-friendly sandwich. This Texas Red Chili recipe includes a medley of spices and seasonings, all stirred together with flavorful beef chuck. So, to lighten up the pairing, we suggest our light and vinegary Pickle Panzanella recipe. And, for a delicious sandwich option, why not opt for a tasty Mediterranean-Style Veggie Sandwich between two slices of Martin's 100% Whole Wheat Potato Bread?
What will be your meal combination for your next lunch? Try mixing up the recipes in our meal combination chart, and tell us which ones are your favorites! Or get creative with different soups and sandwiches from our recipes page, potatorolls.com/recipes—the possibilities are endless!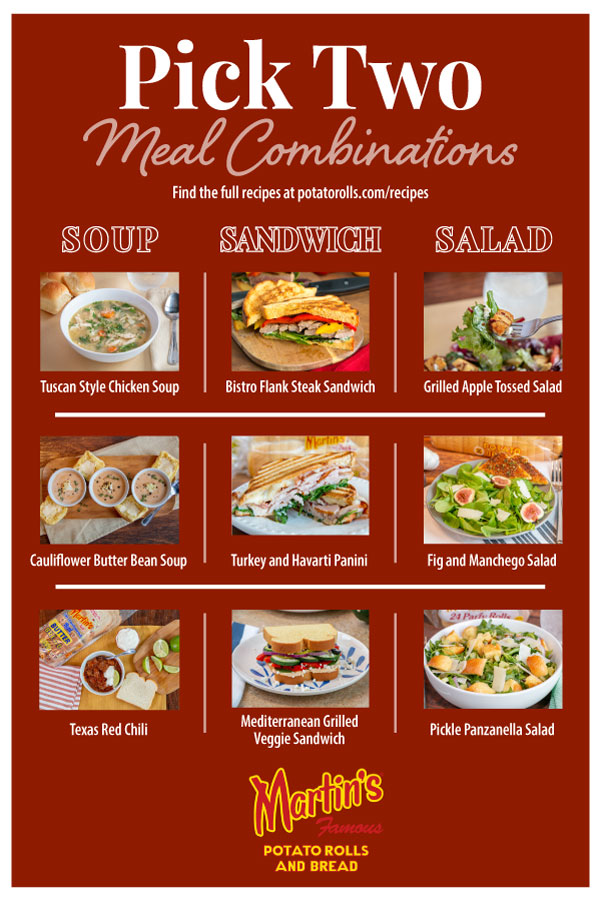 Our latest content, delivered straight to your inbox.
Be the first to hear about our newest recipes, tips, and company updates!