Human beings are curious creatures. We like to ask questions—in the form of who, what, where, when, why, and how—in order to collect knowledge, seek out specific information, or obtain advice from our peers or community.
In today's day and age, many of our curiosities can be easily satisfied by a couple of keystrokes and the click of a button; the internet and online social community has the answer to just about any question we may choose to ask. In fact, there is often too much information, too many resources, and too many conflicting viewpoints in answer to our inquiries that the results can be simply overwhelming.
If only all of our answers could be found in one place…
Now, we may not be able to explain to you the meaning of life, but we happen to know a lot about food trends and cooking tips. So, we asked ourselves: "What are you curious about, when it comes to food?"
We scoured the interwebs in search of your top food-related questions and compiled a list of crowdsourced topics we want to help answer, from the best cooking methods and appliances, to how-to guides and recipes.
Pick a question from the list below to jump straight to the answer, or scroll down to read the full list:
Table of Contents
You Asked: What's the best way to cook a hot dog?
We Answer: While there are many ways to cook a hot dog (steamed, boiled, pan-fried, grilled, etc.) we prefer grilling or pan-frying/deep-frying.
If you have the benefit of being able to grill outdoors, we love a classic chargrilled hot dog. A grill has the unique ability to impart a delightful smoky flavor, while locking in all the flavors and juices and leaving decorative grill marks on the hot dog and at the same time.
For an indoor cooking hack that still leaves you with plenty of flavor and char, we recommend searing your hot dogs in a frying pan over medium-high heat in a bit of cooking oil (pro tip: use bacon grease), then finishing over medium heat until heated through.
Pro-Tip: You can also try deep-frying your hot dogs for maximum flavor and crunch! Try this: score the outside of the hotdog, then carefully place it in hot oil for a couple of minutes. The end result is a nice crunchy skin on the outside and juicy inside.
(P.S., We're assuming you're using Martin's Long Potato Rolls, right? Their soft, squishy exterior with a hint of sweetness makes them the perfect match for a salty, smoky grilled hot dog!)
The real question should be: what's the best way to top a hot dog?
And boy, do we have some great resources for you!
First off: check out our Hot Dog Toppings Bar blog for a brilliant party hack that lets everyone build their own hot dog from a selection of various toppings.
For some pre-selected ideas, try out some of the recipes below, or head to our hot dog recipes archive for even more inspiration.
View All Recipes: https://potatorolls.com/recipes/?dish-type=hot-dogs
You Asked: What's the best way to cook grilled cheese?
We Answer: We're so glad you asked! Our favorite method is the tried-and-true pan-fried technique, but check out these other ideas below.
We happen to have already done some thorough experimenting on the various ways to cook a grilled cheese sandwich. You can see the results of that in our Grilled Cheese – 7 Ways blog where we test the following cooking methods: pan-fried, cast iron skillet, grill, oven, waffle iron, toaster, and air fryer.
While there are pros and cons to each method, we found that nothing beats the classic pan-fried method (although cast-iron is a close match). There's something nostalgic about a classic grilled, and the basic pan-fried technique requires no recipe and minimal cooking skills, making it perfect for all your late night comfort food cravings.
If you're looking for a basic recipe, here's what we recommend:
2 Slices Martin's Potato Bread or Martin's Old-Fashioned Real Butter Bread
2 Slices American Cheese (or other semi-soft melty cheese)
1-2 Tablespoons Softened Butter or Mayo
From there, you're free to experiment with all types of variations (like this Inside-Out Grilled Cheese!). Try testing with other types of cheeses, just keep in mind the "melt factor." If using harder, sharper cheeses, be sure to use shredded cheese and blend with another softer cheese to ensure it melts thoroughly when cooking your sandwich. Check out our list of recommended cheese varieties in the blog link above.
We also love incorporating other ingredients into our grilled cheese creations—from pickles or caramelized onions to chopped barbecue brisket, deli meat, or fruit jam. The possibilities are endless! Find our full archive of grilled cheese recipes at the link below!
View All Recipes: https://potatorolls.com/recipes/?re_campaign=grilled-cheese
You Asked: What's the best technique for cooking a burger?
We Answer: Our favorite methods are grilled or smashed on a flat-top griddle.

Photo Courtesy of Mark Tripp (@TrippBurgers)
In peak grilling season, there's nothing better than a perfectly cooked burger grilled over charcoal. That subtle smoky flavor paired with salty, savory ground beef, gooey American cheese, onions, tomatoes, lettuce, and mayo on a Martin's Potato Bun is the quintessential taste of summer.
However, in the off-season (or anytime, really) we love ourselves a good restaurant-style smash burger. This method involves forming the ground beef into small balls, then smashing them down using a sturdy spatula onto a hot flat-top griddle. This technique traps in the burger's juices and creates crispy, craggy edges because the ultra-thin patty cooks quickly and evenly while maximizing the surface area that can be seared. Learn all about this technique in our Smash Burger Showcase.
More Expert Burger Tips:
Start with an 80/20 (lean-to-fat) ratio of ground chuck
Don't salt/season the patties until after they are formed
Be sure not to overwork the meat—loosely form the patties
Flip the burgers only once, halfway through cooking time
Don't press down on the patties while they are cooking (unless using the smash burger technique described above)
Learn how to imitate that "summer burger" in the winter with these indoor grilling tips.
Once you've cooked your burger to perfection, you're free to top it however you see fit. Check out our Build-Your-Own-Burger Bar for some topping suggestions or head over to our burger recipes archive for unique recipe ideas.
View All Recipes: https://potatorolls.com/recipes/?dish-type=burgers
You Asked: How to make French toast?
We Answer: Dip each slice of bread in a simple milk-and-egg custard flavored with vanilla and cinnamon, then pan-fry until golden brown.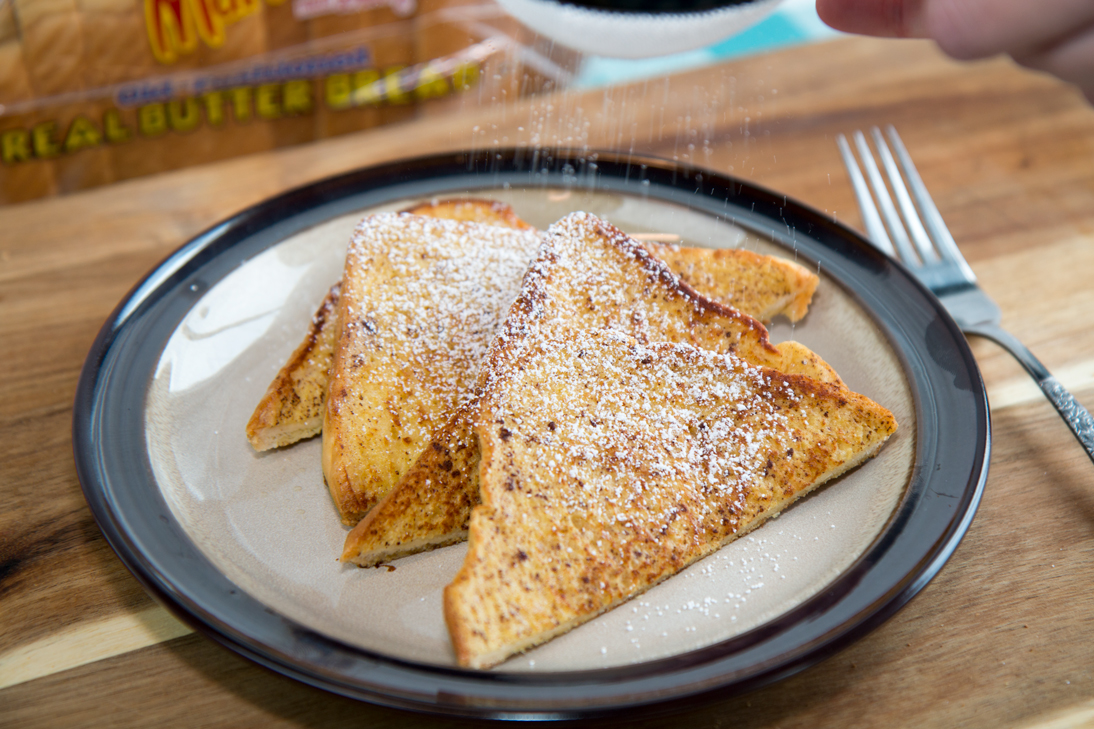 The best French toast is made with a few simple ingredients, just like Grandma used to make. It starts with high-quality bread like Martin's Old-Fashioned Real Butter Bread, either fresh or slightly dried out (if you like to soak it for a longer amount of time), dipped in a mixture of eggs, milk, vanilla extract, cinnamon, and a pinch of salt until saturated on both sides. Then, melt a bit of butter in a non-stick skillet and fry the bread until golden brown and toasty—about 2 minutes per side. Serve warm with powdered sugar and maple syrup!
Find step-by-step instructions on our blog: https://potatorolls.com/blog/grandmas-old-fashioned-french-toast
Once you've mastered the classic recipe, try these other French toast variations!
View All French Toast Recipes: https://potatorolls.com/recipes/?dish-type=french-toast
You Asked: How to cook eggs in different ways?
We Answer: There are seven main ways to cook an egg: scrambled, omelet, fried, basted, boiled, poached, and baked/shirred, each with their own variations. See below for more details on each method.
If you've ever eaten at a diner before, you've likely seen "eggs any style" listed on the breakfast menu. When asked to choose your favorite preparation for eggs, perhaps scrambled or sunny side up come quickly to mind, but did you know there are actually a number of different ways to cook eggs? Browse the list below of the main categories (and sub-categories) to learn how to prepare each method.
Egg Preparation Guide:
Scrambled: Whisk eggs until fully combined, add to hot skillet with melted butter, cook over medium heat, stirring often until egg is fully cooked; then scramble the cooked egg to break up slightly. Serve.

Soft Scrambled: Cook until egg is mostly set, about 5 minutes on medium-low heat.
Hard Scrambled: Cook until no liquid remains, about 5-7 minutes on medium/medium-high heat

Omelet: Whisk eggs until fully combined, add to large hot skillet with melted butter, cook over medium/medium-low heat until bottom is set, pull cooked edges away from pan and tilt pan to let uncooked eggs reach edge of pan; when eggs are mostly set, add desired fillings and fold omelet in half to cover.

Frittata: Start as with an omelet, using a high-sided skillet; add desired fillings while the egg is still raw; allow to cook through, either flipping halfway through to cook other side or finishing off in the oven.

Fried: Crack egg directly into preheated buttered skillet; cook until whites are cooked through and yolk reaches desired level of doneness, flipping once if desired.

Over Easy: ("Dippy Eggs") Fully cooked egg whites with still-runny yolks. Flipped once and cooked just until remaining egg whites set.

Sunny-Side-Up: Fully cooked egg whites with still-runny yolks. No flipping.

Over-Medium: Fully cooked egg whites with moderately-runny yolks. Flipped once.
Over-Hard: Fully cooked egg whites with fully cooked yolks. (Yolks are typically broken first.)

Basted: Crack egg into heated skillet with melted butter and use a spoon to baste the egg with liquid (butter or water) once it is mostly cooked on the bottom. (No flipping involved.)
Boiled: Add eggs to boiling water and simmer for 5-10 minutes (depending on preference); transfer to ice water to stop from cooking.

Soft-Boiled Eggs: Boil for 5-7 minutes
Hard-Boiled Eggs: Boil for 7-10 minutes

Poached: Add cracked egg directly into boiling water; use a slotted spoon to swirl the water around the egg (this forms a funnel that keeps the egg whites together); cook for 3-4 minutes.
Baked/Shirred: Crack egg into buttered 4-oz ramekin; top with heavy cream and other desired toppings; bake 8-10 minutes at 350-375* F, checking often. Optional: place ramekins in water bath.
For more details, check out our Complete Guide to Eggs: https://potatorolls.com/blog/eggs-101
You Asked: How to make homemade hot sauce/buffalo sauce?
We Answer: Blend together fresh chili peppers, vinegar, water, and salt, along with any other desired seasonings. To make buffalo sauce, add in melted butter.
Homemade hot sauce can be made from either fresh or fermented peppers, each of which gives the sauce a distinct taste. To prepare, add washed and seeded peppers, vinegar (or water + vinegar), salt, and garlic (if desired) to a pot and bring to a boil; simmer 10-15 minutes, then process in a blender until smooth. Strain pulp if desired, and store in a sealed jar until ready to use.
You can use any variety of chili pepper you would like, or a combination of less-hot and more-hot varieties. Try experimenting with different types of peppers and other ingredients (like spices, fruit, etc.) to create your own unique flavors.
Learn more about homemade hot sauce at: https://potatorolls.com/blog/spicy-sandwich-showdown
Learn how to make buffalo sauce at: https://potatorolls.com/blog/homemade-buffalo-sauce-recipe
You Asked: How to make homemade mayonnaise?
We Answer: Mayonnaise is an emulsion of eggs, oil, and acid such as vinegar or lemon juice.
Whether you've run out of mayonnaise and need a quick fix or you just prefer to make your own so you can customize it to your taste preferences, homemade mayo is simple and delicious! To make: add eggs, mustard (or mustard powder), and salt to a food processor and pulse to combine; with the food processor running, slowly drizzle in light olive oil until mixture is emulsified; then add lemon juice (or white vinegar) and mix briefly until fully incorporated. Store in a sealed container until ready to use.
Once you've mastered homemade mayonnaise, you can use it to create all sorts of great sauces and spreads such as the ones below:
Flavored mayo
Aioli
Tartar sauce
Remoulade
Fry Sauce (Mayo-Ketchup)
Salad Dressings
Learn more at: https://potatorolls.com/blog/mayo-based-sauces.
You Asked: How to make homemade jam/jelly/fruit preserves?
We Answer: Simmer peeled and chopped fresh fruit, lemon juice, and sugar until broken down and thickened.  (To make jelly, use only the fruit juice.)
To make fruit preserves (jam), you only need three basic ingredients: just-ripe fresh fruit, sugar, and freshly squeezed lemon juice. Depending on the type of fruit you are using, you may need to add additional pectin to help the mixture to jell. Tart fruits such as blackberries, granny smith apples, and citrus fruits are naturally high in pectin, so jams made with these fruits tend to thicken well enough on their own without the need for added pectin. Check out the link below for a simple customizable jam recipe!
Once you've perfected your favorite jam recipe, you can graduate to these other types of popular fruit preserves:
Jam: A preserve made with crushed or chopped fruit, cooked with sugar until softened and mostly broken down. May or may not have added pectin.
Jelly: A preserve made from only the fruit juice, along with sugar and occasionally pectin. This method requires special equipment such as a jelly bag, strainer, or cheesecloth.
Conserve: A preserve made with two or more types of fruit. Often includes dried fruits or nuts.
Compote: A fruit preserve made with whole fruit or large pieces of fruit cooked down in a sugar syrup (no pectin added).
Marmalade: A soft jelly that contains pieces of citrus rind/peels.
Chutney: A preserve that typically includes savory spices, vinegar, and/or dried fruit, usually with no added pectin and lower sugar content.
Try our step-by-step instructions at: https://potatorolls.com/blog/how-to-make-homemade-jam.
You Asked: How to build a charcuterie board?
We Answer: Arrange an assortment of cheeses, cured meats, fruit, and other accompaniments onto a decorative board or platter and serve alongside bread or crostini.
Charcuterie boards can be a fun and creative way to serve up "mix-and-match" appetizers, almost like an interactive mealtime. With various types of meats, cheeses, and other elements, every different combination is a unique experience.
While there is no "right" way to build a charcuterie board, there are a few general rules-of-thumb:
Include a variety of textures with bread/crackers and various types of meats and cheeses
Include a combination of mild and bold flavors
Include several different types of cheese; for example, one fresh or soft, one semi-soft, and one hard
Choose a selection of different types of cured meats such as prosciutto or Spanish ham, salami or chorizo, and smoked deli meats
Offer other accompaniments like fruit spreads or jams, honey, salted butter, nuts, sliced fruit, berries, or grapes, and olives or cornichons
For more charcuterie board inspiration, visit: https://potatorolls.com/blog/charcuterie-boards
You Asked: What is the best way to store bread?
We Answer: We recommend storing our bread sealed in its original packaging at room temperature in a dark, dry, cool location such as a pantry, drawer, or bread box.
The best way to store bread is at room temperature in a dark, dry, cool location such as a pantry, drawer, or bread box. We also recommend keeping our bread sealed in its original packaging, as this will help retain its moisture. If you no longer have the original packaging, try wrapping the bread in plastic wrap or aluminum foil.
It is not recommended to store bread atop appliances that emit heat or under direct light as this can produce excess moisture and cause the bread to mold quicker. It is also not recommended to store bread in the refrigerator as this can cause it to dry out faster.
Freezing bread, on the other hand can help to prolong its shelf life. We suggest freezing our bread inside its original packaging, then thawing completely inside the bag when ready to use again.
Find more bread storage tips at: https://potatorolls.com/blog/bread-storage-dos-donts
You Asked: What are some uses for stale bread?
We Answer: Turn stale or dried-out bread into breadcrumbs, croutons, or crostini, or use it to make French toast, bread pudding, meatloaf, grilled cheese sandwiches, or stuffing!
If you ever find yourself with slightly stale or dried out bread, keep in mind that it can be extremely useful in a variety of recipes. The obvious choices are anything calling for breadcrumbs, baked croutons, or toasted crostini, but it can also be perfect for foods like bread pudding or French toast that require a lot of liquidy ingredients. Take a look at a few ways to transform your stale bread below!
Breadcrumbs: Bake sliced or cubed bread in a low-temperature oven for 10-15 minutes, until golden-brown, then crumble pieces into coarse breadcrumbs. Alternately, pulse bread into crumbs first, then bake on a cookie sheet in a low-temperature oven for 20-30 minutes, until golden-brown and toasted.
Croutons: Cut bread into small cubes, then coat with olive oil or melted butter and any desired seasonings, and bake at 350°F for 10-15 minutes or until toasted.
Crostini: Cut bread or rolls into medium pieces, brush with olive oil or butter, and bake until golden brown and lightly toasted.
Learn more uses for stale bread at: https://potatorolls.com/blog/use-leftover-stale-bread
You Asked: What is the best kitchen appliance?
We Answer: They are all useful for different purposes! Our recent favorites are air fryers and multicookers. Learn more at the links below.
We love any kitchen appliance that helps reduce the recipe prep or speed up the cooking process. From one pan meals cooked on a single baking sheet to one pot meals in a set-it-and-forget-it slow cooker, there's a time and reason for every type of meal prep "hack." Check out the resource links below to find pros and cons, recipes, and detailed information on a few popular kitchen appliances and cooking trends.
Air Fryer: https://potatorolls.com/blog/air-fryer-recipes, https://potatorolls.com/blog/game-day-cookoff
Multi-Cooker: https://potatorolls.com/blog/multi-cooker-shredded-chicken-sandwiches, https://potatorolls.com/blog/game-day-cookoff
Sheet Pan: https://potatorolls.com/blog/8-easy-sheet-pan-meals-for-families, https://potatorolls.com/blog/sheet-pan-meals
Slow-Cooker: https://potatorolls.com/blog/10-easy-slow-cooker-recipes-for-tailgating, https://potatorolls.com/blog/slow-cooker-sandwich-recipes
Have a food-related question you'd like us to cover? Follow us on social media and let us know what it is!
Our latest content, delivered straight to your inbox.
Be the first to hear about our newest recipes, tips, and company updates!