Do you find yourself getting hungry right when you're about to go to bed? Maybe you're staying up later as the days get longer and just need something to snack on while you finish up your nighttime routine? Here are a few ideas for late night snacks no matter what you're craving!
Savory Recipes
Need something salty or savory while you finish up your last movie or TV show of the night? Check out these quick and tasty savory recipe ideas perfect for midnight snacking!
Mozzarella Dogs
https://potatorolls.com/recipes/mozzarella-dogs
Just bake some frozen mozzarella sticks according to the package instructions. Put 1-2 baked mozzarella sticks in a toasted Martin's Long Potato Roll, and top with warm marinara sauce and a slice of provolone. Broil until the cheese melts, then sprinkle with grated parmesan cheese!
Spaghetti Boats
https://potatorolls.com/recipes/spaghetti-boats-garlic-bread/
Use up your spaghetti leftovers from last night by reheating them with some extra sauce and mozzarella, then spreading on top of a split Martin's Hoagie Roll brushed in garlic butter.
Pizza Dogs
Keeping up with the Italian food theme, check out this quick video to see how to make a Double-Stuffed Pizza Dog! Hint: it involves hot dogs, marinara sauce, mozzarella, pepperoni, and potato rolls!
Sweet Recipes
Maybe you tend to develop a sweet tooth late at night? Here are a few simple, craveable options for your late night hunger.
Sprinkle Bread
https://potatorolls.com/recipes/sprinkle-bread
Generously butter one slice of Martin's Old-Fashioned Real Butter Bread. Top with finely grated white chocolate and rainbow sprinkles. Yum!
Peanut Butter Toast
https://potatorolls.com/recipes/peanut-butter-w-sprinkles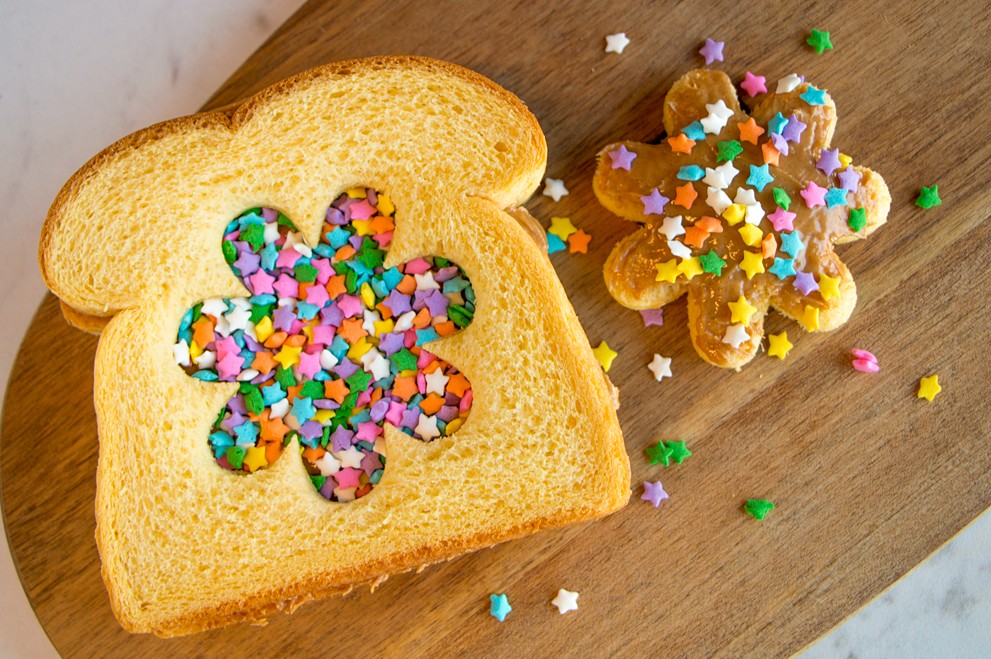 Try toasting a slice of Martin's bread and spreading with peanut butter and sprinkles for a fun and colorful sandwich! (You can add also some sliced bananas for extra sweetness.)
Healthy Indulgences
Trying to watch your figure? Or maybe you'd rather not eat too much right before bedtime? Try these simple and nutritious toast options on Martin's Whole Wheat Potato Bread.
Avocado Toast
https://potatorolls.com/recipes/avocado-egg-white-breakfast-toast
Smash half an avocado on a slice of toast, then top with salt and pepper, a sprinkle of cheese, and maybe a drizzle of sriracha for a bit of kick. For extra protein, add a poached egg or some scrambled egg whites.
Fruit and Nut Butter Toast
https://potatorolls.com/recipes/nut-butter-and-fresh-fruit-on-toast
The combo of fresh fruit with nuts gives you a perfect balance of salty and sweet, and is simple enough to keep your tummy satisfied without overeating. Choose your favorite nut butter like almond or cashew, then spread it on some toasted Whole Wheat Potato Bread and top with your choice of fresh fruit like bananas, blueberries, or strawberries.
Plan Ahead:
If your late night cravings come at an inconvenient time where you don't want to cook anything, try preparing something in advance that you can just grab from the pantry.
Cinnamon Sugar Snack Mix
https://potatorolls.com/recipes/cinnamon-sugar-snack-mix
Bake some quick cinnamon-sugar croutons using Martin's bread, then combine with freshly popped popcorn, dried fruit, chocolate chips, and nuts, for your own homemade snack mix!
Our latest content, delivered straight to your inbox.
Be the first to hear about our newest recipes, tips, and company updates!