All Posts
How to Build a Grilled Cheese Bar; Melt with Martin's Intro
February 21, 2022
5 min. read
In the heart of winter, what could be more comforting than a warm and melty grilled cheese sandwich? It's at the top of our list of cozy comforts, for sure! And to think, all you need are three basic ingredients: bread, cheese, and butter.
But why stop there?
Comfort food is personal. Everyone has a unique palate and different flavors that evoke a sense of nostalgia, joy, or delight. So why not build your ultimate grilled cheese sandwich to match your own signature style?
We love the concept of food "bars" here at Martin's. These buffet-style arrangements of ingredients allow each person to build their own creation, whether it be burgers, hot dogs, bbq, or (in this case) sandwiches. This creative dining experience makes for a fun, interactive meal that you can enjoy with friends and family, and it allows for everyone to customize their dish to their own preferences.
With many different varieties of cheese to choose from, along with endless pairing options of meats, toppings, and condiments, grilled cheese is perfectly suited for this type of DIY meal solution.
Learn how to build your own DIY Grilled Cheese Bar below!
Setting Up Your Grilled Cheese Bar
Building a DIY sandwich assembly line is easy! The main consideration will be deciding which ingredient options you want to include (check out our lists below for some examples). Here are some other tips to keep in mind:
Be sure to include a variety of bread, meat, cheese, and other filling options.
Don't forget the butter for spreading! Alternatively, you can try using mayonnaise or olive oil as well.
Make sure all the cheese is in an easy format for building sandwiches. If you include hard cheeses like parmesan or gruyere, you'll want to shred or grate them first so the cheese melts easily. Try to also include some pre-sliced or pre-shredded cheeses for easy prep work (hint: cheddar and mozzarella work great!).
Include some sliced fruits and veggies, fresh herbs, and seasoning/sauce options for those wanting to add extra flavor and variety to their sandwiches.
Decide in advance how you will want to cook the sandwiches once they are prepared. Will they be individually cooked in a stovetop skillet? Or do you have access to a flattop griddle or sandwich press that can be used to heat multiple sandwiches at once?
For inspiration on which ingredients to include in your Grilled Cheese Bar, check out the below ideas:
Martin's Breads
Martin's Potato Bread
Martin's Old-Fashioned Real Butter Bread
Martin's 100% Whole Wheat Potato Bread
Cheeses
Havarti, sliced
Asiago, freshly grated
Swiss, sliced
Cheddar, sharp white, shredded
Cheddar, medium yellow, sliced
Muenster, sliced
Gruyère, freshly sliced or shredded
Mozzarella, fresh or shredded
Gouda, freshly sliced
Pepper Jack, sliced or shredded
Parmesan, freshly grated
Feta, fresh, crumbled
Meats
Ham, sliced
Turkey, sliced
Pepperoni
Salami, sliced
Bacon, cooked, crispy
Prosciutto, sliced
Fruits & Vegetables
Fruits

Apples
Pears
Peaches
Pineapple

Veggies

Arugula
Tomato, sliced
Avocado
Red Onion, sliced
Spinach
Fresh Herbs (e.g., Basil, Thyme, Dill, Chives, Oregano)
Toppings
Roasted Red Peppers, chopped
Chipotle Peppers in Adobo
Kalamata Olives
Mushrooms, sautéed, sliced
Roasted Garlic
Caramelized Onions
Sun-Dried Tomatoes
Pickle Chips, Dill or Bread & Butter
Jalapeños, pickled or fresh
Seasoning & Spices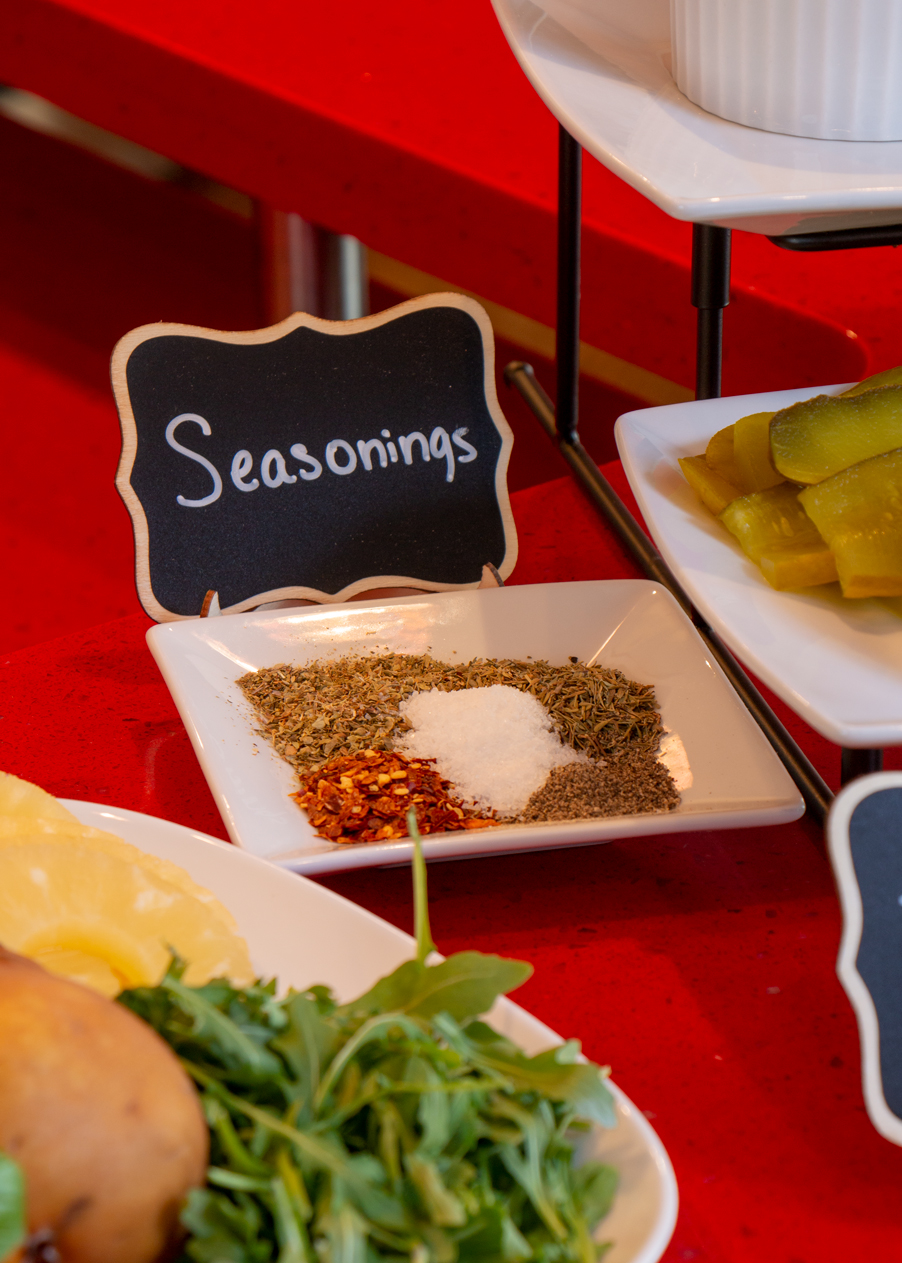 Dried Herbs (e.g., Thyme)
Red Pepper Flakes
Garlic Powder
Black Pepper
Spreads & Sauces
Butter, room temperature
Mayonnaise
Marinara Sauce
Pesto, prepared
Dijon Mustard
Honey Mustard
Fruit Spread (e.g., Raspberry, Blueberry, Apricot)
Fig Jam
Tomato Jam
Honey
Hot Sauce (e.g., Tabasco, Sriracha)
Featured Grilled Cheese Recipes
Check out the delicious sandwich recipes we created using the ingredients shown above!
Pepperoni Pizza Grilled Cheese
Combine two beloved comfort foods into one by blending mozzarella and parmesan cheeses, sliced pepperoni, and marinara sauce between two slices of Martin's Old-Fashioned Real Butter Bread, grilled to melty perfection!
https://potatorolls.com/recipes/pepperoni-pizza-grilled-cheese
Greek Grilled Cheese
Incorporate the bold flavors of the Mediterranean in this grilled sandwich filled with mozzarella cheese, crumbled feta, roasted red peppers, Kalamata olives, fresh spinach, and dried oregano, served on Martin's Potato Bread.
https://potatorolls.com/recipes/greek-grilled-cheese/
Portobello Pesto Grilled Cheese
For a veggie-lovers option, try this roasted mushroom grilled cheese with melty gouda and savory pesto spread, tucked inside toasty slices of Martin's 100% Whole Wheat Potato Bread.
https://potatorolls.com/recipes/portobello-pesto-grilled-cheese/
More Grilled Cheese Combos
The possibilities are endless! Look at all the sandwich creations you can make with 5 ingredients or less:
Havarti + Honey + Pear (with Arugula) on Martin's Butter Bread
Sharp Cheddar + Fig Jam + Prosciutto on Martin's Whole Wheat Potato Bread
Hawaiian Pizza: Mozzarella + Ham + Pineapple + Red Onion on Martin's Butter Bread
Cheddar + Mozzarella + Bacon + Pickles on Martin's Potato Bread
Swiss + Turkey + Honey Mustard on Martin's Butter Bread
Pepper Jack + Sriracha Mayo + Jalapeños on Martin's Potato Bread
Gruyére + Sundried Tomatoes + Roasted Garlic Aioli + Basil on Martin's Butter Bread
Or—mix and match your own favorite flavors to build your own custom grilled cheese creation!
---
Introducing: Melt with Martin's
If this blog has your stomach rumbling, you'll love our new Melt with Martin's Giveaway! From now until March 21st, you can enter to win a limited edition grilled cheese kit complete with Martin's bread, a Stargazer Cast Iron skillet, and all the cooking accessories you need to make the ultimate grilled cheese sandwich!
Head over to https://potatorolls.com/melt for more information and additional grilled cheese inspiration!
---
Bonus: A Grilled Cheese for Every Holiday
Looking for more grilled cheese content? Watch the below video to see how to make a Grilled Cheese recipe for every holiday this year!
Find these recipes in our blog archives at https://potatorolls.com/blog/tag/grilled-cheese or recipes page at https://potatorolls.com/recipes.
Related Blogs:
Our latest content, delivered straight to your inbox.
Be the first to hear about our newest recipes, tips, and company updates!