All Posts
Kick Off Summer with a Backyard BBQ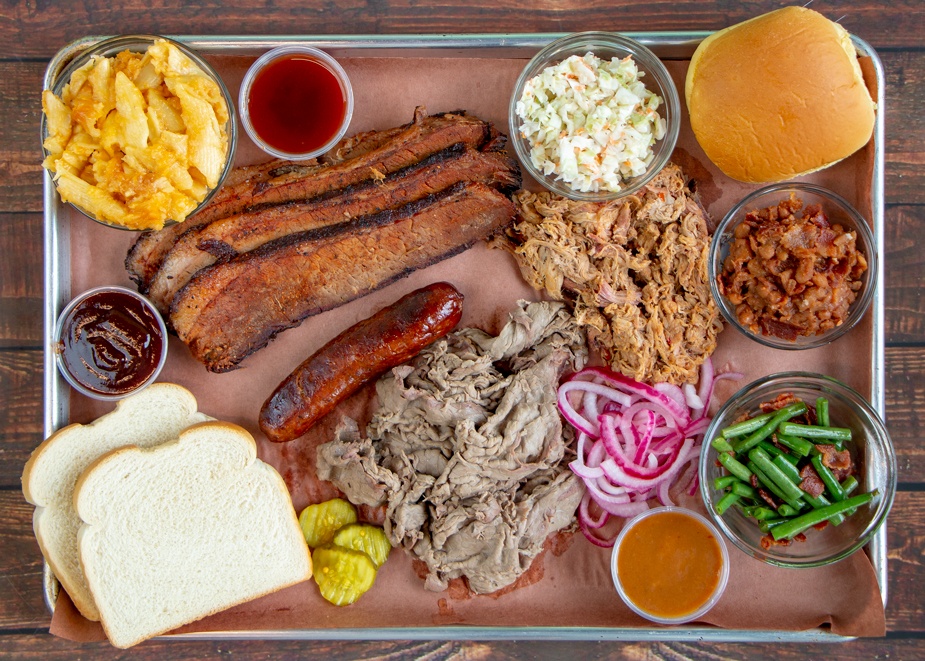 BBQ Combo Platter with Sliced Brisket, Pulled Pork, Pit Beef, Sausage, and Assorted Sides & Toppings
Summer may not officially start for another month, but we're looking forward to the coming three-day Memorial Day weekend as the unofficial kick-off to summer. And what better way to welcome summer than with some classic American barbecue?
If you're from the Southern United States, you're likely familiar with some of the traditional types of barbecue—Texas smoked brisket or Carolina pulled pork, to name a few. But barbecue reigns supreme all throughout the country, with each state adding their own unique twist. There's St. Louis-style spareribs, Kansas City "burnt ends," Chicago rib tips and hot links, the list goes on.
With so many diverse BBQ styles (and we haven't even touched on side dishes yet!) it makes it easy to sample a variety of options or to mix and match barbecue meats, sauces, and sides to create your own perfect combo platter.
Backyard BBQ Party Platters

Texas BBQ Platter with Sliced Brisket, Pulled Pork, Baked Beans w/Bacon, Homestyle Mac & Cheese,
Classic Cole Slaw, Pickles, BBQ Sauces, and Martin's Butter Bread
Celebrate the start of summer with a barbecue grilling extravaganza. Consider preparing several types of barbecued meats along with various side dishes, sauces, and toppings for your guests to choose from. (Don't forget to provide several Martin's roll or bread options to use for sandwiches!)
You can decide to customize your food selection based on your favorite style of barbecue or regional specialties, or offer a diverse selection and let guests prepare their own BBQ platters to their liking.
Here are some barbecue options to get you started:
Meats:
Brisket (chopped or sliced)
BBQ Burnt Ends
Pulled Pork
Chicken (1/4, 1/2, or whole)
Pit Beef
Sausage
Turkey
Ribs
Sides:
Mac & Cheese
Hush Puppies or Cornbread
Potato Salad
Amish Macaroni Salad
Cole Slaw
Baked Beans
Green Beans
Applesauce
Collard Greens
French Fries or Onion Rings
Corn on the Cob
Toppings:
Bread & Butter Pickles
Pickled Onions
Lettuce
Tomato
Jalapenos
BBQ Sauces:
Bread & Rolls:
Martin's Old-Fashioned Real Butter Bread
Martin's Sandwich Potato Rolls
Martin's Long Potato Rolls

Mid-Atlantic BBQ Platter with Pit Beef, Sausage, Amish Macaroni Salad, Green Beans w/ Bacon, Potato Salad, Pickled Red Onions, Bread & Butter Pickles, BBQ Sauces, and Martin's Sandwich Potato Rolls
Barbecue Recipes
Not sure how to prepare some of the above barbecue options? Check out the following recipes for more ideas and inspiration.

Baby Back Rib Sandwiches with Assorted Toppings

Burnt Ends Sandwich by Hey Grill Hey
Barbecue Restaurants
If you're not feeling adventurous enough to cook your own barbecue, consider catering in one or more options from a local barbecue restaurant. Below are some great BBQ restaurants throughout various states that use Martin's Potato Rolls. Check out their social media sites for some inspiration!
Martin's Summer Sweepstakes Featuring Big Green Egg
Could your summer grilling toolkit use a refresh? Or maybe your current grill isn't optimal for the low-and-slow style of authentic barbecue? Sounds like you could use a Big Green Egg grilling prize pack!
Head over to our Sweepstakes landing page at www.martinssummersweeps.com and fill out the form to be entered for a chance to win one of three Big Green Egg Prize Packs + Accessories including Martin's Famous Potato Rolls. (But hurry—you only have one week left to enter!)
There you'll also find more delicious barbecue and grilling recipes to add to your Backyard Summer Barbecue repertoire. Check it out and let's get grilling!
---
Our latest content, delivered straight to your inbox.
Be the first to hear about our newest recipes, tips, and company updates!