Once the holiday season is over, winter can tend to lose its "magic." That perfect blanket of fresh, fallen snow is no longer as charming as it was yesterday, and the glistening icicles on the rooftop now seem more like safety hazards. To top it all off, the shortened days and chilling temperatures often keep us cooped up indoors, longing for spring. This feeling, often termed the "winter blues," happens to the best of us.
While the "winter blues" can be a big issue for many people (read this blog post to learn more), we came up with a few fun and simple ways to help combat this seasonal feeling of sadness or anxiety.
If you're feeling "down" this winter, chances are you're not the only one. Invite your family, friends, neighbors, or coworkers over to an anti-winter celebration! Throw a colorful party extravaganza filled with bright, fun decorations and foods—just because!
Here are a few color party theme ideas:
Blue – turn those "winter blues" upside down by making the often depressing color into something fun and vibrant. Have a fun time looking for naturally blue foods, or decorating snacks and desserts with blue-colored icing or sprinkles!
Summery – You have heard of Christmas in July, why not summer in January?  Pretend it's a different season. Decorate your party with bright, sunny colors like yellow and orange to liven things up. Have each guest bring an (off)-season dish reminiscent of warmer weather.
Multi-colored – if you can't pick just one color, why not choose them all? There's nothing more festive and smile-inducing than a room filled with bright, happy colors and decorations! Find activities and foods of every color on the spectrum, or let each guest bring a dish of their favorite color. Below are some ideas for creating foods full of color.
Colorful Food Ideas
Turn your meal into a fun interactive experience by letting each person design and decorate their own food from an assortment of food colorings and decorations. In this way, your dining experience can double as a sort of "paint night."
We loved the idea of a multicolored theme because it allows for a lot of versatility and customization, however the below recipes can work with any color scheme of your choice.
Colorful Grilled Cheese
This fun recipe gets its inspiration from a box of crayons. With bright streaks of colorful, cheesy goodness, this twist on a childhood favorite will make you feel like a kid again! Be sure to use white cheeses that are easily melted to achieve the same vibrant color and that great "cheese pull." Then decorate with colorful shaped sprinkles for a picturesque finish!
Our variation uses Martin's primary colors, red and yellow, with some of the secondary colors found on our packaging; blue, green, and purple!
Recipe: https://potatorolls.com/recipes/colorful-grilled-cheese
Fairytale Toasts
You've probably seen this recent trend spreading across social media sites like Instagram, under names like "Unicorn Toast," "Mermaid Toast," and "Galaxy Toast."
The concept is pretty straightforward; you start by adding various colors to a base such as cream cheese, then "paint" the different colors onto a slice of toast in individual layers and patterns. The resulting creation is a sort of blended "painting" that looks almost fantastical, like something out of a fairytale (hence terms like "unicorn" and "mermaid").
To add further customization, you can also include sprinkles of various shapes and colors for people to choose from when designing their toasts. You can choose from a variety of bases for your "paint," such as cream cheese, yogurt, icing, marshmallow fluff, or whipped cream. Or—include multiple options for people to pick from; they will also provide a slightly different texture and consistency to your masterpieces!
"Head in the Clouds" – colorful marshmallow fluff and sugar sprinkles on toasted Martin's Potato Bread
The Martin's team had a lot of fun experimenting with the different colors, ingredients, and toppings. Everyone has a different style and preference, which makes it fun to look at all of the creations side-by-side and see the diversity.
Go crazy! Have a blast! Let everyone decorate 1-2 toasts in their own unique way, then show them off art gallery-style. Take turns coming up with creative fantasy-themed names for each of them (see below for some inspiration). Above all, enjoy!
Recipe: https://potatorolls.com/recipes/fairytale-toasts
More Fun Recipes:
Shaved white chocolate and rainbow sprinkles on buttered Martin's Old-Fashioned Real Butter Bread.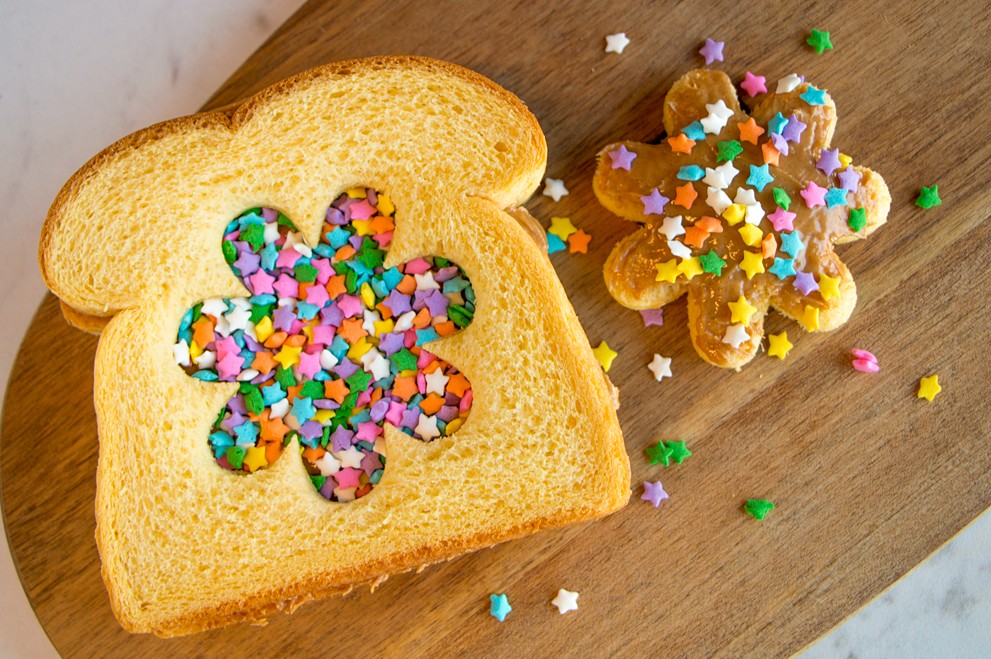 Peanut butter and colorful star sprinkles on Martin's Potato Bread with a fun flower cut-out.
Our latest content, delivered straight to your inbox.
Be the first to hear about our newest recipes, tips, and company updates!